How to Wear a Shirt Dress: 5 Outfit Ideas
Shirt dresses are one piece outfits that are long enough to be called a dress. They have differences in length, sleeves and slits, but the front is similar to a shirt (hence the name).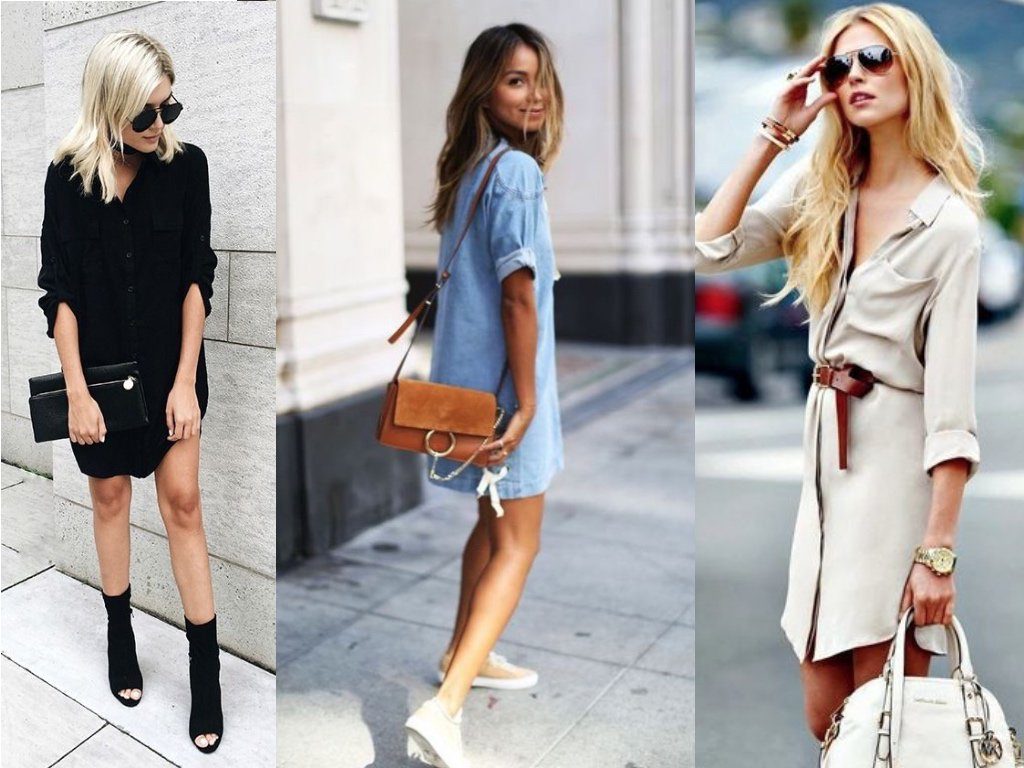 How to Style a Shirt Dress
Slipping into a shirt dress means your dressing up is more than half done. Accessorizing is the only thing that remains. Since your legs are going to be exposed choose shoes that complement the dress. You may also fashion them with leggings or stockings during winter.
1. Denim Shirt Dress
Comfortable denim shirt dresses are all for a playful and flirty look. For winter you can wear leggings or jeans along with a denim shirt dress. For lighter fabric, chambray shirt dresses are ideal for you and can be styled just like denim ones. You may either go for button-down denim shirt dress and keep the upper buttons open for a plunging neckline. There are other buttonless denim shirt dresses as well which come with a variety of necklines but the most popular style is the round one.
Best for: Summer and Winter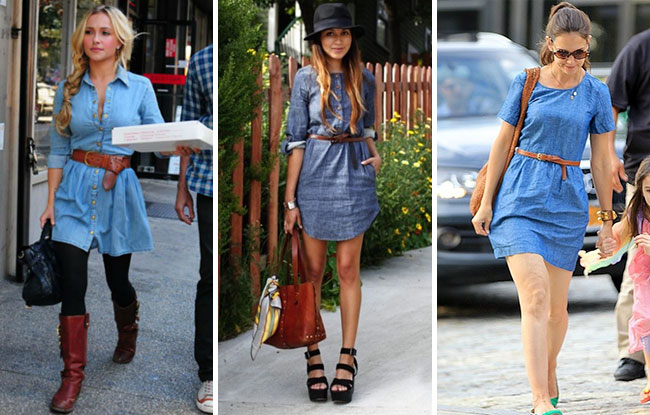 Shoes– Leather boots, platform heels, and pumps
Accessories– Tan belt, fedora hat, tote bag, sunglasses
2. Striped Shirt Dress
Cotton shirt dresses with horizontal embellishments are a style statement for you. Wearing a jacket on top of a sleeveless shirt dress will give you an ideal corporate look. Choose beige, red, and yellow for a vivacious look. Front pockets and a "v"-neckline make a good combination on a striped dress like the following one. Vertical stripes give a taller look while horizontal stripes make you look wider. Women must use these prints in their favor.
Best for: Spring and fall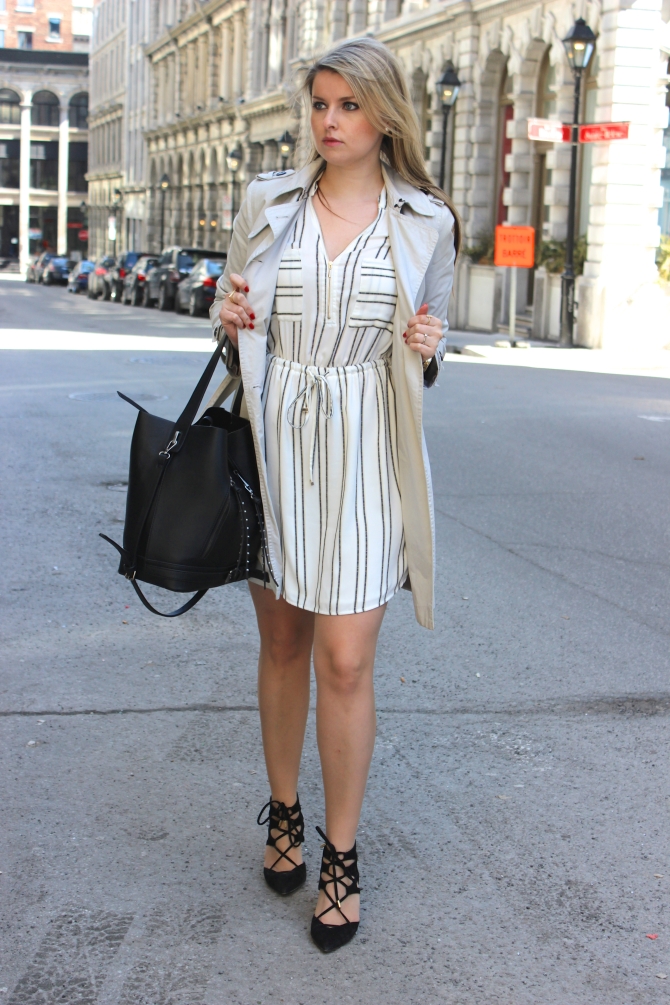 Shoes– Gladiators or strappy flats
Accessories– Stacked bracelets, statement watch, bucket bag
3. Flannel Shirt Dress
Full sleeved chequered flannel shirts and chilly winds have a fashionable relationship between them as the material keeps you snug and comfy. The red and black combination is a classic one to rely on gloomy or wintry days. You can opt for leggings along with plaid shirts with combinations of black and blue or black and white.
Sometimes you may choose velvet shirt dresses with such patterns printed on them for an even more comfortable look.
Best for: Winter and fall
Shoes– Thigh-high boots or ankle booties
Accessories– Tan belt and sling bag
4. Maxi Shirt Dress
It could be cotton, chambray or anything comfortable, a long shirt dress with or without side slits give you street fashion goals. Camo, olive green or army shirts with a belt may also do for outing purposes.
A pair of skinny jeans also complements your slit dresses. When you have a long walk ahead of you, choosing jeans as a bottom wear is a cool decision.
Best for: Summer and spring
Shoes– Things, sneakers, and block heels
Accessories– Oversized bag, stud earrings, belt
5. Oversized Shirt Dress
Oversized shirt dresses made of breathable fabrics are a viable choice for expecting women. The loose-fitted style is essentially casual. It could be made of cotton, georgette, chambray or anything that is conducive to a relaxed look. You may make the waistline cinched by wearing a belt for an hourglass silhouette.
Best for: Summer
Shoes– Gladiators or thong sandals
Accessories– Belt, sling bag, watch, hat, sunglasses
Shirt dresses are like white canvases, and you can pretty much team up anything with it. Statement pieces of jewelry or no jewelry at all, heels or flats, everything goes with such pretty dresses.