Comfortable Wedding Shoes for Brides to Have a Smooth Walk Down the Aisle
The options for buying comfortable bridal shoes are plenty, as famous brands like Kate Spade New York, Jimmy Choo, Christian Louboutin, and Valentino leave you spoilt for choice. With a good understanding of what your feet need and look good in are the two basic steps you can't afford to miss.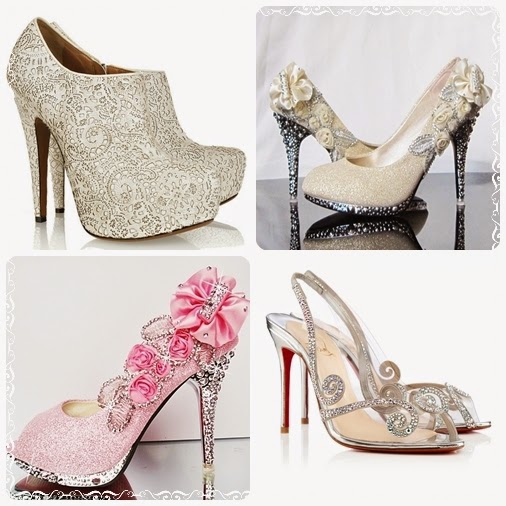 Things to Consider While Choosing Bridal Shoes You Wish to Dance in
Material– Wedding is an elaborate process so, you need to choose shoes made of skin-friendly materials. If you have any aversion or allergy towards a certain material then ruling out that option filters your choice. Mostly, moleskin( a type of cotton) or satin are two of the popular materials.  Also, if you order for custom made shoes, then you can match the material of your dress and shoes.
Embellishment– Rhinestones and gaudy ornamentations look pretty sparkling, but if your dress is lacy then they can catch on your bridal ensemble. It means trouble and discomfort during the dance time! Still, if you don't want to compromise on either part( the dress and the shoe) then gently run a small piece of fabric your wedding dress is made of on the shoe to check if there is any problem or not. If the fabric is caught up, then choose shoes with a different placement of stones. For example, instead of the front and back, the stones can be on two sides of the shoes.
Style– Twisting and twirling are essential wedding dance moves, but they might cause some embarrassing slipping of your bridal shoes. Shoes with straps ensure that your feet stay rightly in their place during your performance.
Height– This is a personal choice as not all feel discomfort in high heels. Still, heels within 3 inches are mostly favored by women. They are even recommended for all, especially when the wedding ceremony and reception party are on for an extended period of time.
Size– Wearing a pair that is one size bigger than your feet size maximizes the space between your toes and heels.
 Most Comfortable Shoes for Wedding
Bridal Flat Shoes
T-strap Bridal Flats– Perhaps the most comfortable pair, t-straps with rhinestone embellishments and a sling-back or buckled feature make wonderful wedding shoes. Tall women should try these flats even for an after wedding party. Women having wide feet might go for such shoes as the strappy look gives space.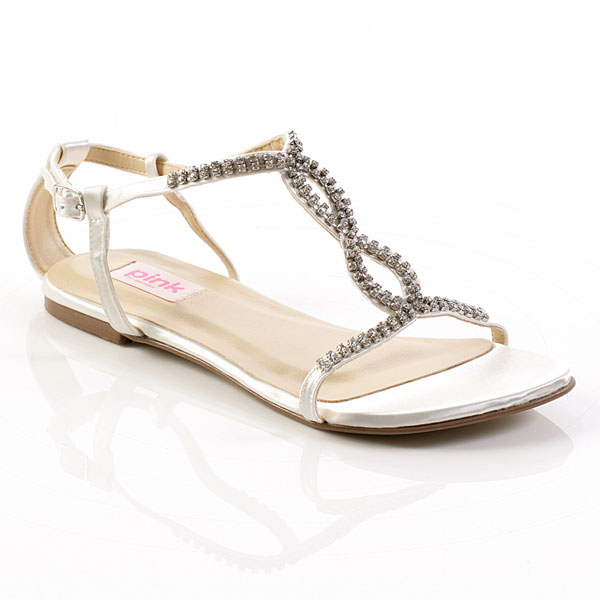 Comfortable Wedding Heels
Lacy Pumps with Low Heels – Either open or closed-toe, bridal pumps with lacework offer a vintage yet delicate style to brides. The low kitten heels are good for mothers of the bride and women who have bunions.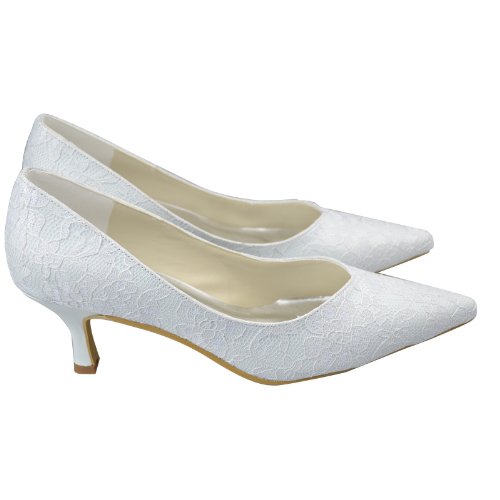 Dressy Bridal Wedges– Cute and chic bridal wedges with a stable heel complete the sartorial grace of a bride. Plus size brides might choose for such shoes for a better balance. Even wearing them for a longer period than expected, for dancing or meeting with guests would not hurt your heels and toes. Unlike pointy heels, these won't get stuck to a grassy or muddy surface.
Bridal Block High Heels– The vintage yet feminine style is perfect for brides who put comfort more than anything else. Such styles will give you a stability and lessen the chance of tripping.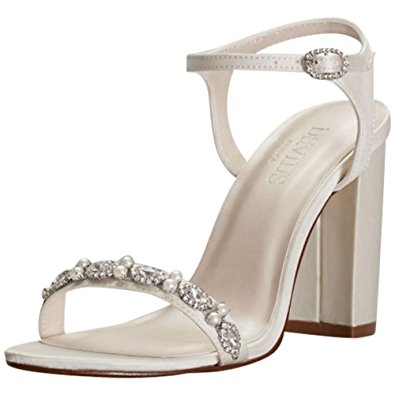 Bridal Platform Stilettos– Even if you have to choose stilettos, then go with the ones with platforms. This way you don't have to balance your toes and heels at the same time, as the toes will safely be on the platforms.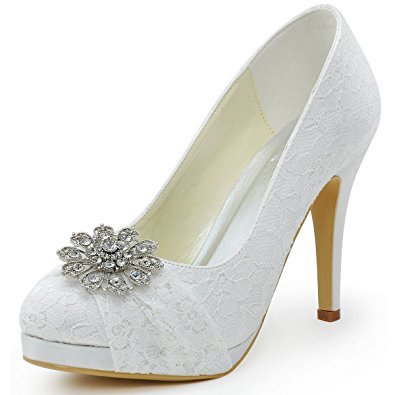 Once the Precious Pair is Home…
Break-in Your Shoes– Wearing the pair for half an hour daily before your wedding will stretch the material and give you comfort on the big day. You may wear socks and practice walking in the pair at home for a fast and effective result.  You may blow a hairdryer as heat expands the material.
Insert Insoles– These items act as a cushion and do not let your toes and heels have a difficult time.
Lubricate the Straps-If you find out that the strap of your freshly bought shoes is causing irritation to your skin but you don't want to discard them, use your deodorant for this. Spray it on the strap to create a layer between your skin and the strap.
If you have found your comfortable pair, and wish to change their look after the wedding is done, buy the affordable ones that can be dyed. Although it can ruin rhinestones so you better leave the embellished part.