6 Types of Shoes to Wear with Long Dresses
The importance of wearing suitable shoes with long outfits is often ignored mostly because women think the shoes won't be visible. But the right style of shoes enhances the silhouette of your dress and figure.
What Shoes to Wear with Your Maxi Dress
1. Strappy Flat Sandals
Summer calls for strappy shoes, sans any heel. During your beach vacation, t-straps, gladiators (ankle length or mid-calf), and flip-flops are suitable options especially if the dresses are flowy and loose fitted. The straps lend a simplicity that will be a continuation of the dress, giving you a comfortable and relaxed appearance.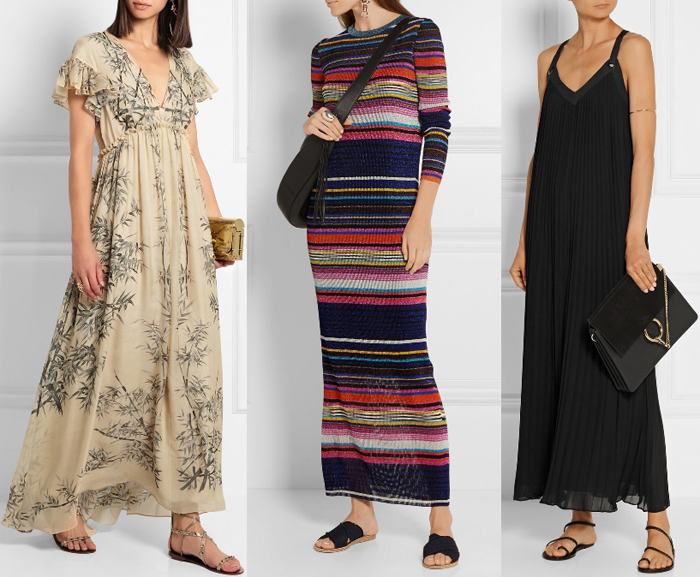 Suitable Dresses: Bohemian long dresses, maxi skirts in casual styles
Accessories: Sling bags, envelope purses
2. Stiletto Heels
Formal, casual or ceremonial occasions require dressy shoes like stilettos, platform pumps, or slingback heels. The silhouette of the long dresses will be maintained by the heels and the platform for a taller and leaner look. However, if it is a wedding, then you need rhinestone embellished shoes, matching with your white or champagne dress. Also, if the dress is slit then the peek-a-boo effect of the shoes will highlight the shoes.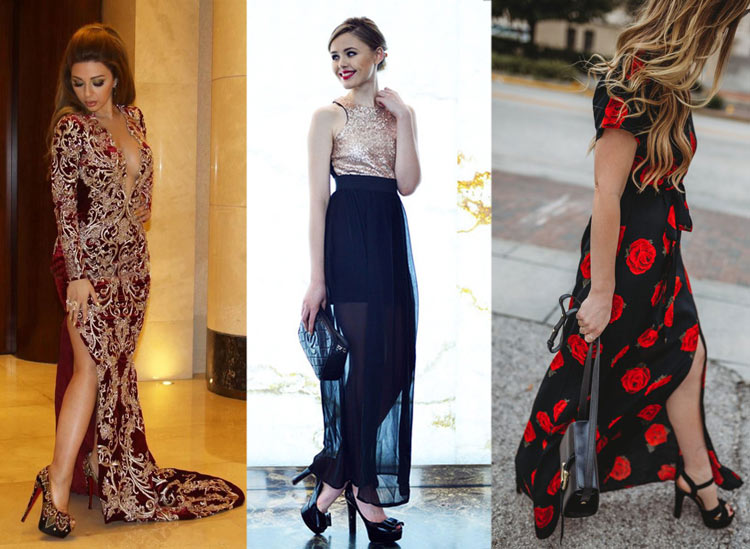 Suitable Dresses: Cocktail dresses, evening gowns, and prom dresses
Accessories: Statement bags, anklets (in case of slit dresses)
3. Sneakers
Any maxi dress can get a quirky and comfortable look if teamed up with sneakers or running shoes. While the dress can keep up the girly vibe, the shoes will take care of your feet as well as providing with a sporty look.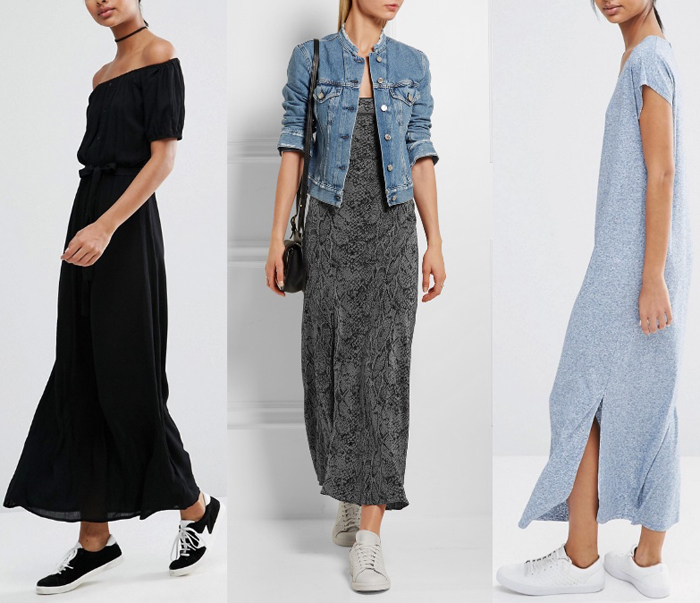 Suitable Dresses: Body wrapping maxi dresses, cotton, and stretchable thigh-high slit maxi dresses
Accessories: Denim jackets, totes, sling bags
4. Wedges and Espadrilles
Most closed-toe wedges complement half and half sheer long dresses. Shoes having strappy details look upscale, and highly recommended for parties. Open-toe wedges will be good for long dresses, especially for an ideal fall fashion.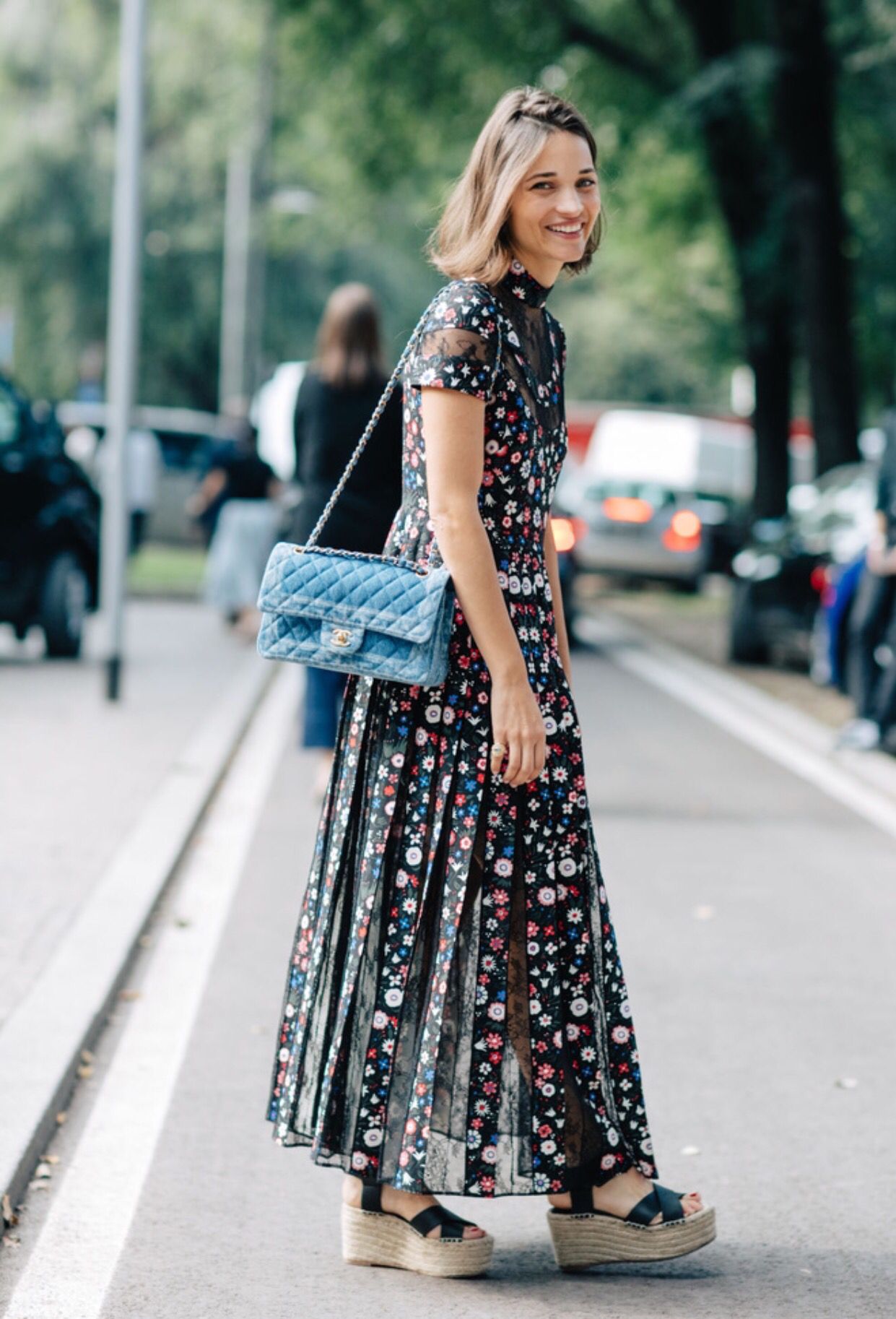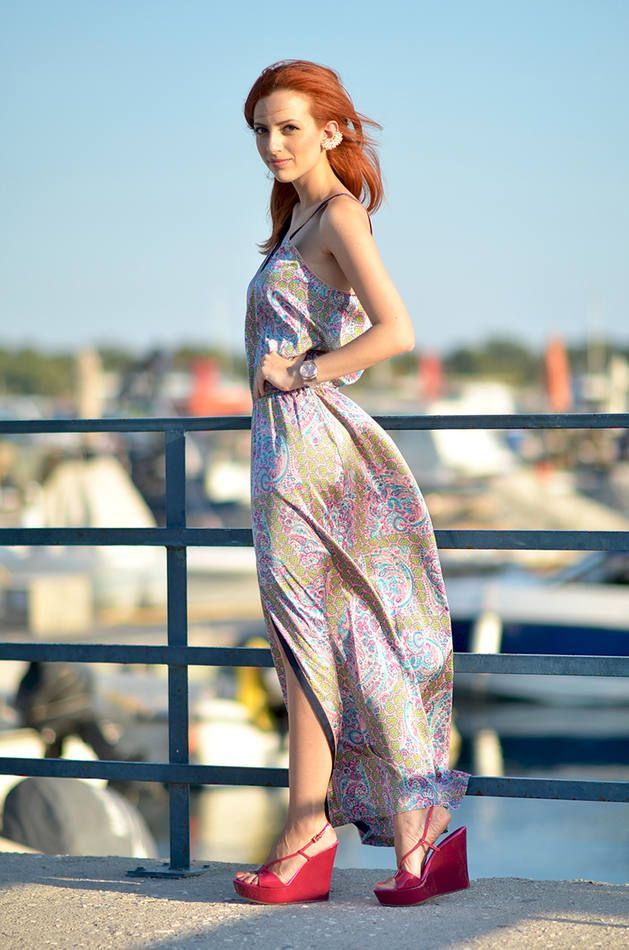 Suitable Dresses: Sheer maxi dresses, floral satin dresses
Accessories: Bags of your choice, scarves
5. Pumps and Ballets
The pumps and ballets are casual options, perfect for taking a stroll at the nearby park with loose and oversized dresses.  While ballets are flats, pumps can have variations in terms of heels. Choose pumps with low, block, or kitten heels or even the vintage Mary Jane accordingly. Ideal for summer and spring seasons, such shoes will give you a relaxed look.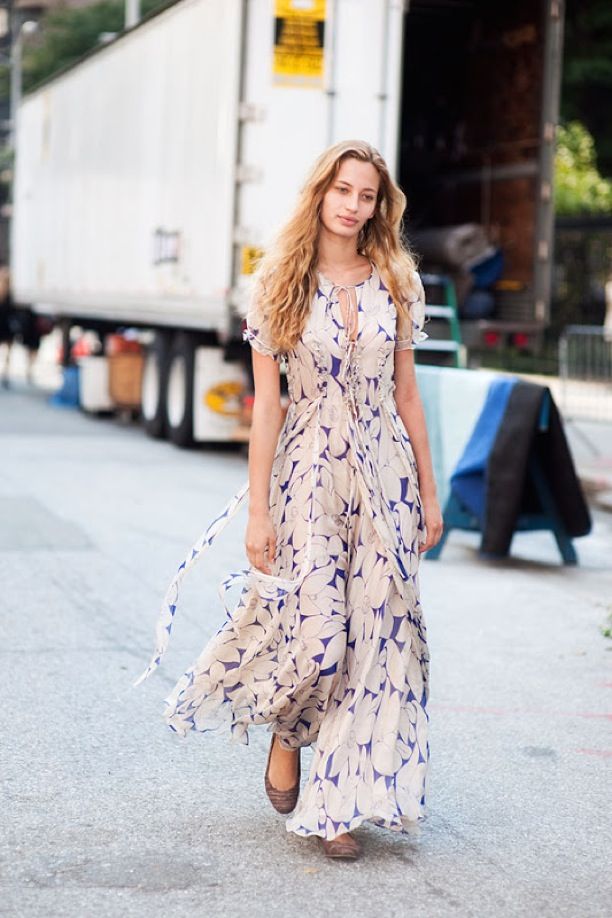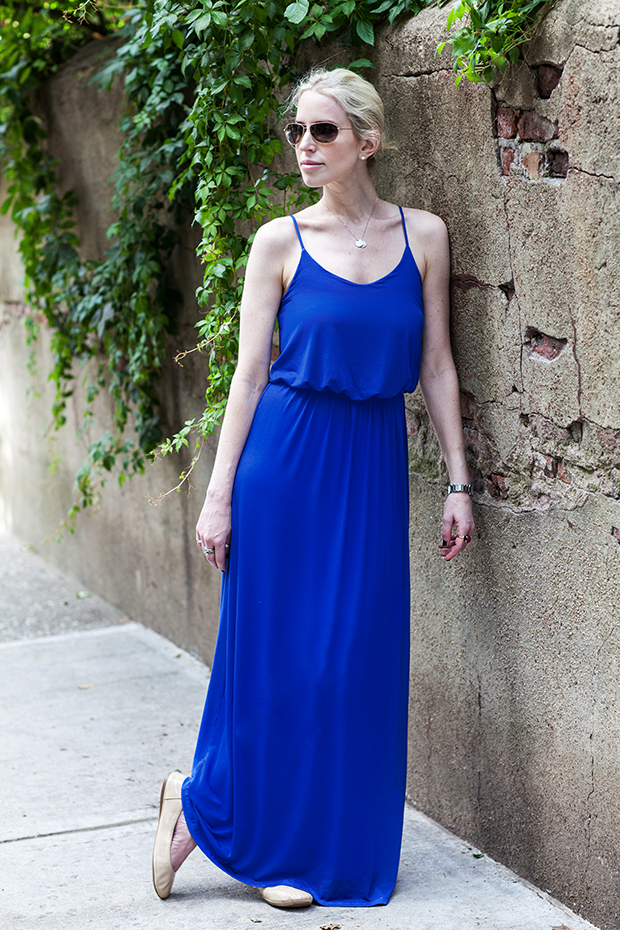 Suitable Dresses: Floral crepe maxi dresses
Accessories: Wide-brimmed hats, sunglasses, and sling bags
6. Low Heels
Kitten heels and other low heels give you the required elevation, without making it obvious that you have worn heels. The design of the shoe could be slingbacks or pumps and there is no specific rule to wear them. Usually they complement casual long dresses the best. Be it a homecoming party or a brunch, such combination will rock your appearance.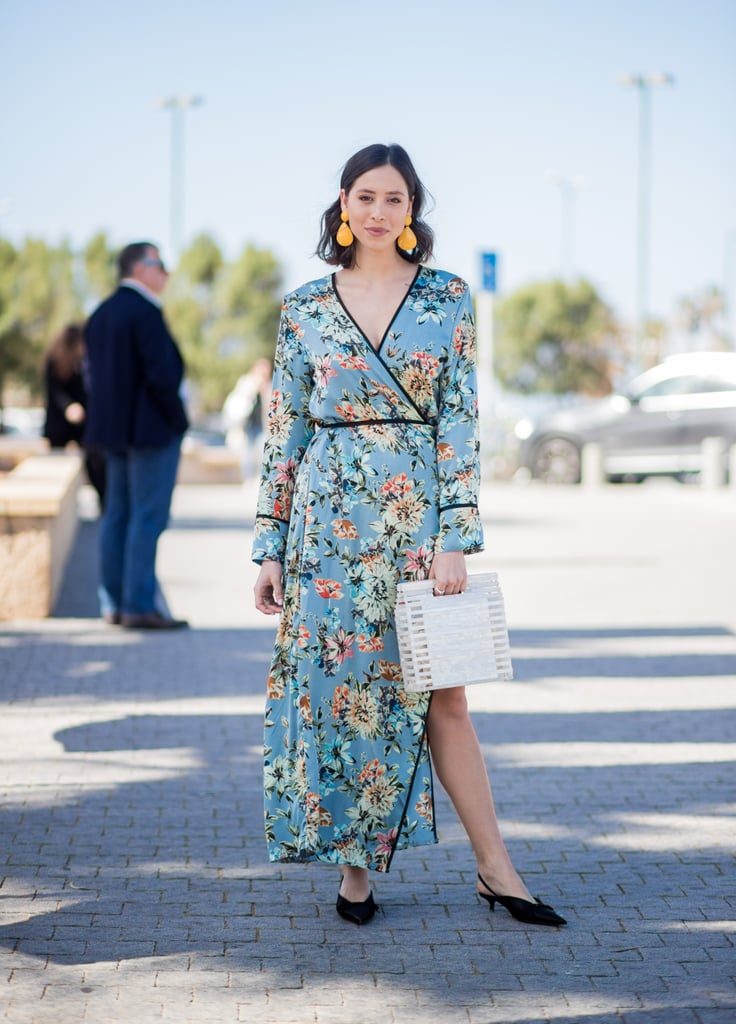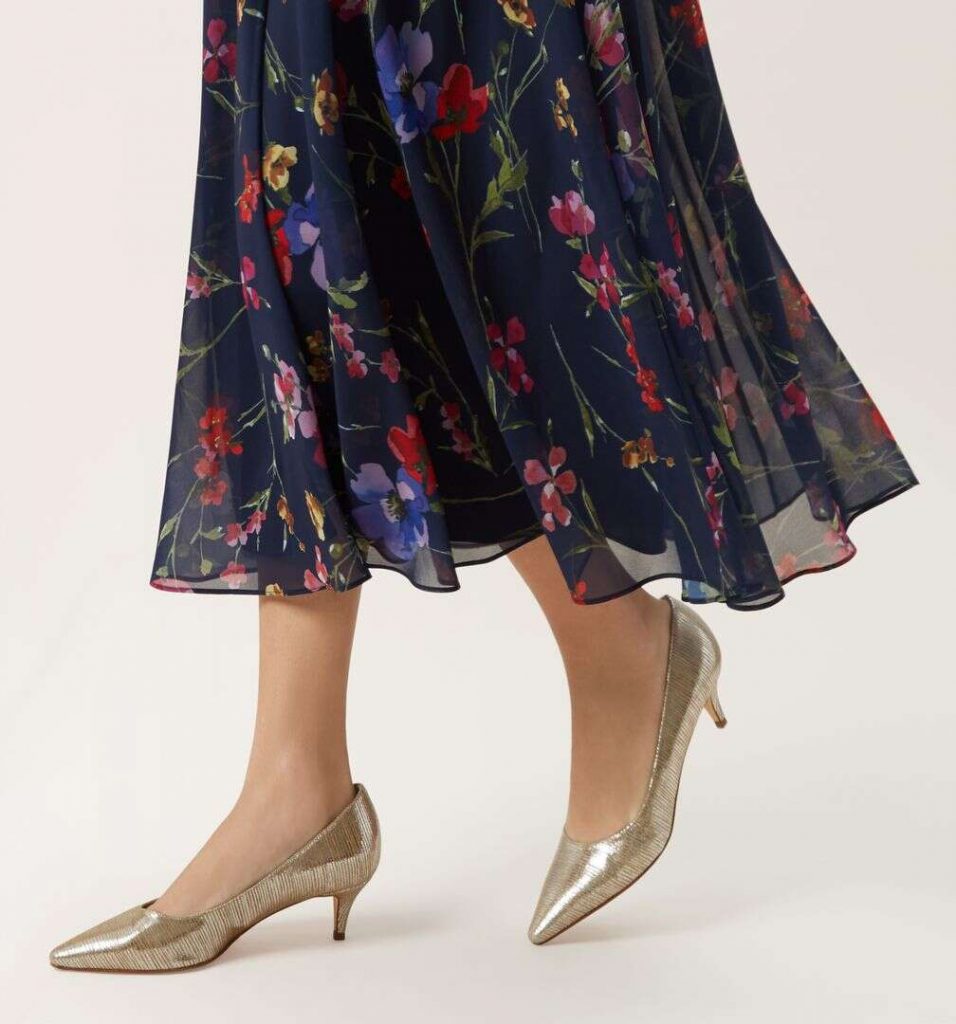 Suitable Dresses: Slit and full sleeved floral dresses, pleated maxi skirts
Accessories: Envelope purses, denim jackets
Since there is no strict rule for combining long dresses with any particular type of shoes, you can wear ankle boots with slit maxi dresses, and flatform with sheer dresses for a change. Whatever you chose to wear, make sure that one is not overpowering the other as your focus is to highlight the entire ensemble.