How to Wear Off-the-Shoulder Top Outfits
Off-shoulder tops (OST) accentuate your shoulder and neckline by revealing them stylishly. These casual-yet-classy tops are mostly elasticized. To prevent them from slipping, choose strapless and fitted innerwear like adhesive or bandeau brassieres.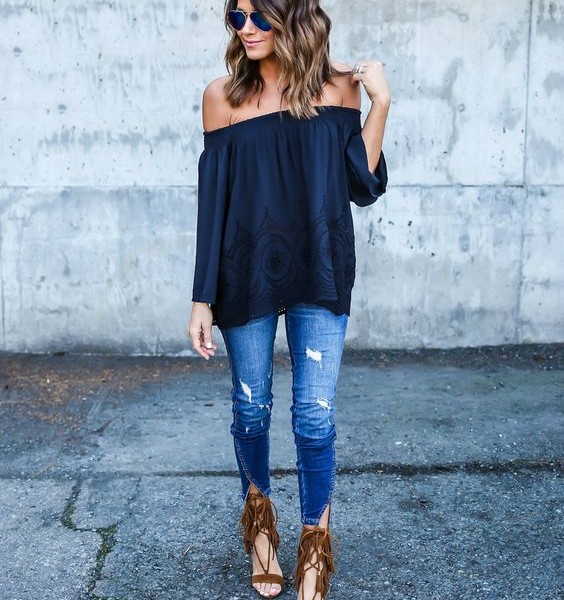 What to Wear with Off-Shoulder Tops
Off-Shoulder Tops and Skirts
A cropped cotton OST and a maxi skirt together create a dressy look. If the top is printed then the skirt must be simple and vice versa. For attending a brunch party in spring, let a lace crop top in white or pastel shades and a front-slit georgette maxi skirt along with a pair of pumps adorn you.
One off-shoulder tops and mid-length skater skirts have a voluminous silhouette, so petite and skinny women can go for this combination. Choose an infusion of two solid shades on your top and bottom. For winter, wear stockings and complement the look with pumps. For breaking the bare look of your neckline, you may opt for statement neckpieces like velvet chokers.
Cold shoulder tops only hanging from your shoulder with thin straps make a great pair with denim skirts. For a summery look, wear a tucked-in white crop top with a short fitted jean skirt.
Off-Shoulder Tops with Jeans
White off-shoulder tops with vertical prints and ruched hemlines and dark blue skinny jeans are an infusion conducive to make you look taller. Slender and petite women would look thinner and taller when choosing strappy heels with this attire. Who are already tall can cuff the jeans a bit. Regardless of the flowy shape of the tops, you may style them by partly tucking them on the front and keeping the rest loose.
Off-shoulder crop tops and oversized boyfriend jeans are an infusion of street style. With white sneakers and sling bags, the look becomes complete. For girls with an apple-shaped figure, the wide shoulders are synchronized with the voluminous bottom as the baggy jeans add some fluffiness.
Cropped OSTs and bootcut jeans offer a continuous look, but the exposed midriff doesn't make it boring. Boat shoes or any other closed-toe pumps are suitable with the get-up. Choose black and blue combination for a stark contrast.