How to Wear a Sequin Skirt with Style
Sequin skirts, being an infusion of shimmer and sophistication, are becoming a closet staple for women across the globe. But as is the case with other skirts, teaming these with appropriate tops and accessories is essential for pulling off a fashionable look.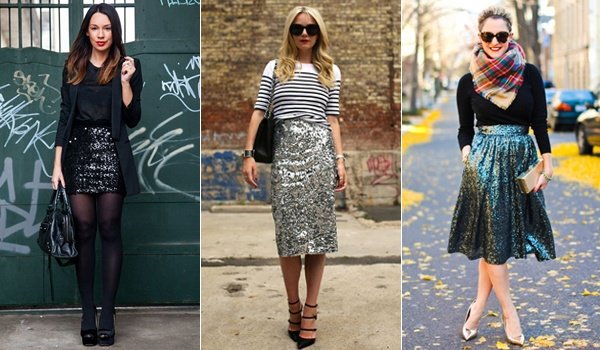 What Top to Wear with Sequin Skirts
Sequins skirts are themselves very gaudy and usually come up with rich and dazzling embellishments, so simple tops in neutral, similar and contrasting shades match well with them.
Shirts
It is a comfortable counterpart of almost all sorts of bottom wear. Especially, for a sequin midi pencil skirt, a short or full-sleeved boyfriend shirt looks ideal as it complements the skirt's silhouette. While you can rely on denim shirts for pairing up with silver or white sequin skirts, white shirts are the best option for gold or champagne sequin skirts.
Suitable bags: Totes or flat clutches
Preferable footwear: Nude pumps and black ankle-length boots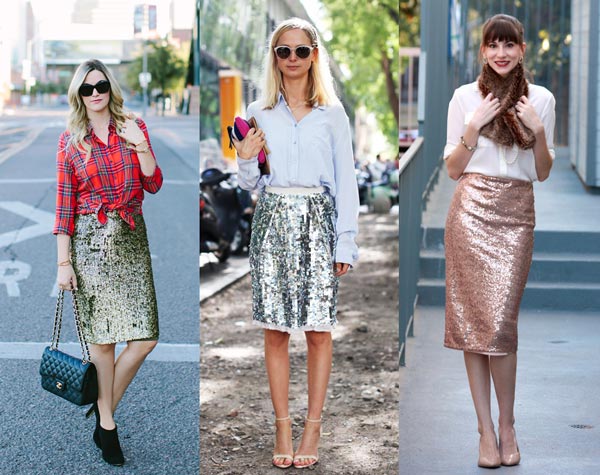 Tank Tops
Tank tops and sequin skirts together deliver a spectacular get-up. Mostly, it is the bodycon skirt that this top makes a perfect combination with, but for an experimental appearance, you may team up a fit and flare skirt. Black tanks or vests could be your pick for simple sequin mini skirts.
Suitable bags: Box clutches or oversized bags
Preferable footwear: Stilettos and wedges 
T-shirts
When in doubt, wear a t-shirt with your sequin skirt, as the chance of a fashion faux pas is zilch. Just imagine a tucked in sleeveless t-shirt with a sparkly skirt of your desired shade! An ideal spring look, isn't it? If you are more into a gothic fashion, then a well-fitted black t-shirt with a high-waisted sequin skirt will lend you a perfect look. A black choker and a dark lipstick will seal the deal.
Suitable bags: Clutches or quilted sling bags
Preferable footwear: Pumps and stilettos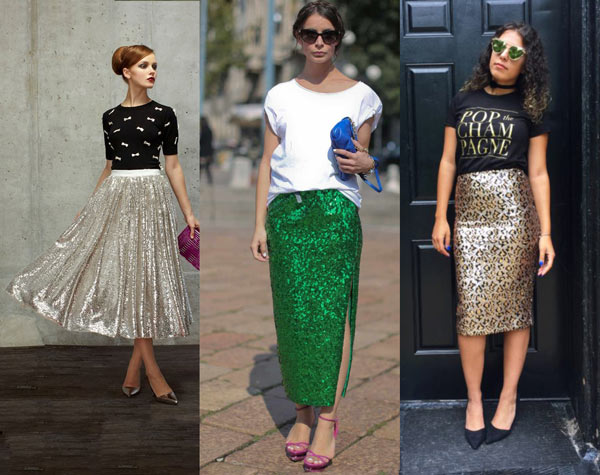 Crop Tops
For a playful appearance, show your toned midriff by pairing a sequin maxi skirt with a skimpy crop top. Such long skirts are good for short and petite women for a taller appearance. Slender women can team up a sequin pencil skirt with a boat neck sequin crop top. This outfit is good for attending any traditional party like a christening or a wedding ceremony as well as a fun-filled bachelorette party. Pear-shaped women may highlight their figure with a turtleneck crop top.
Suitable bags: Clutches or crescent bags
Preferable footwear: Pumps and strappy shoes
Sweaters
Slouchy sweaters lend a carefree, casual winter look without a hitch. You may also try jumpers and pullovers according to your convenience. Dark sweaters coupled with a silver mini skirt and a pair of tights make a wonderful winter attire. Wrap around an infinity scarf while going for a night out with friends.
However, dressing up becomes easier when you have dark colored sequin mini skirts like black, navy blue or maroon, as there are endless possibilities to look good. It could be a corset top or a cap sleeve satin top beneath a leather jacket. So you may flaunt the top and skirt during the day and cover up a bit with a leather jacket at night.
Suitable bags: Handbags or envelope clutches
Preferable footwear: Open-toe or peep-toe shoes, flatforms, and pumps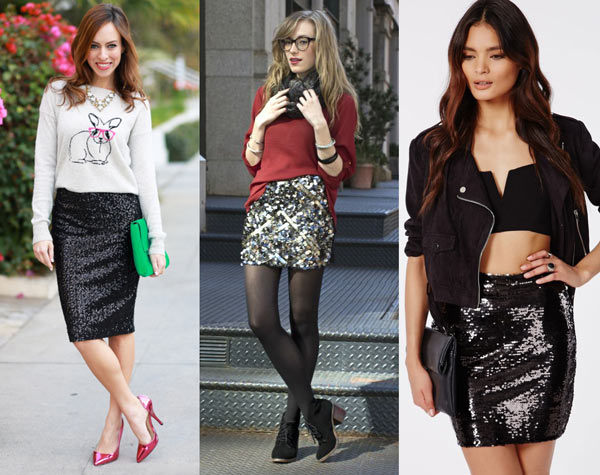 All that glitters is not gold, but all that sparkles must be sequins, and you must update your wardrobe with some sequin outfits to look ravishing. The fact that there are so many options to match with these skirts confirms that it is not as much about "what to wear" as it is about "how to wear".