How to Wear a Pencil Skirt
Pencil skirts lend a fuss-free, no-nonsense look when paired with fitting tops and footwear. Suitable for all body types, the narrow-cut skirt accentuates the posture of your lower body. So, whether you have a slim figure or a plus size one, we got you covered.
What to Wear with Pencil Skirts: 7+ Style Tips
1. Black Pencil Skirts
When in doubt choose black, as the timeless appeal of this shade is hard to ignore. Simple white or light colored tucked-in shirts with high waisted black pencil skirts make a perfect office outfit.
With Camisoles and Off-Shoulder Tops – If you have an hourglass figure like Kim Kardashian, try oversized tops, camisoles, simple crop tops or blouses.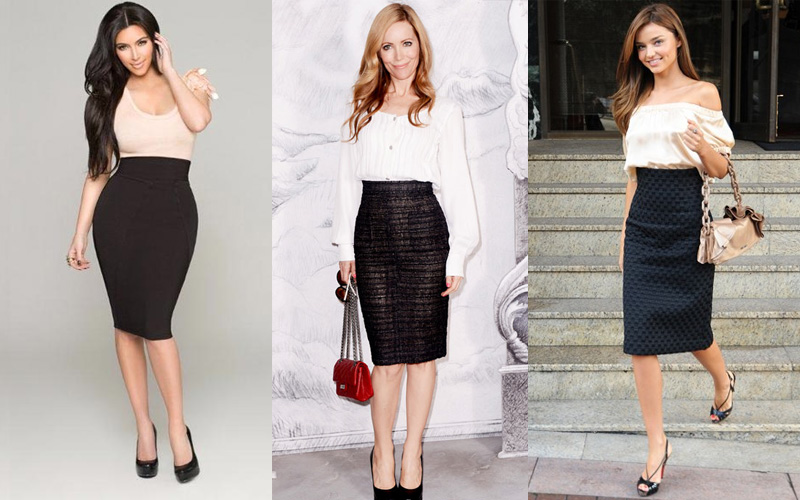 For Maternity Styles – Stretchable pencil skirts are a comfortable option for pregnant ladies. Wear a black maternity pencil skirt from just above the belly with a skimpy short blouse or full-sleeved top to rock your baby shower party. The color black makes your baby bump appear less prominent.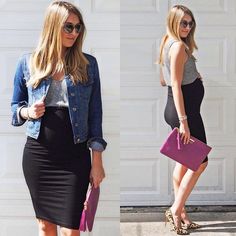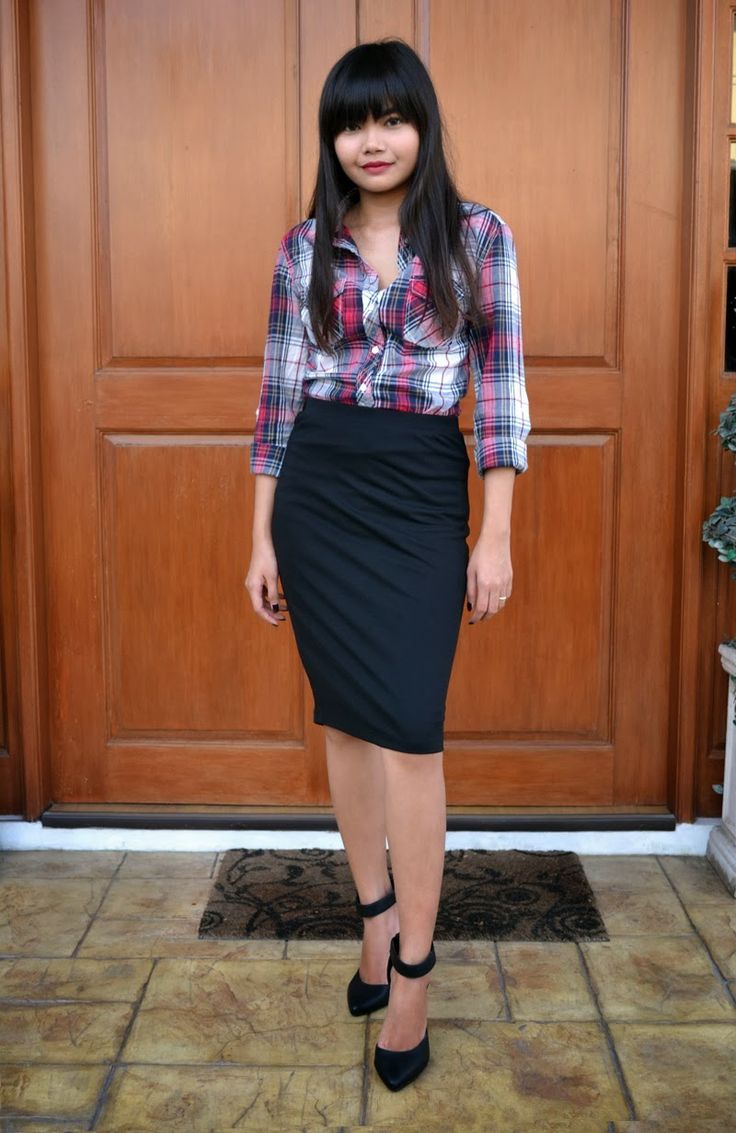 Shoes Black pumps and ankle-length boots; all sorts of flats for soon-to-be moms
Accessories Sunglasses, sling bags and envelope purses
2. Jean Pencil Skirts
With Cotton Shirts and Tops – If big hips and thighs are your problem zone, then wear high-waist jean pencil skirts preferably of dark shades without any pocket for a slimmer look. Jean pencil skirts with waistband nicely cover up a rounded tummy well, making your midriff appear slim.
On the contrary, if you have a slender figure, you can wear denim pencil skirts with intricate textures, buttons, and pockets as these give a voluminous appearance.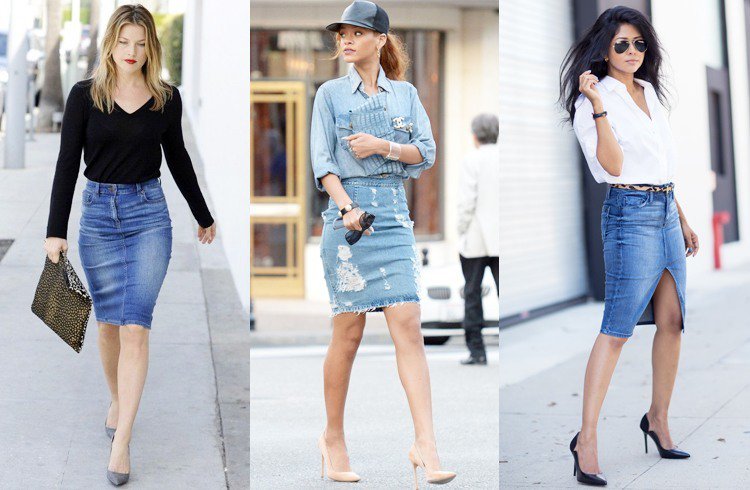 However, a denim shirt paired with such skirts is perfect to flaunt a retro look. Wear these skirts with easy breezy white shirts during hot summer days.
Shoes Pumps, platform shoes or booties
Accessories Sunglasses, belts, and envelope clutches or handbags
3. Khaki Pencil Skirts
With Dark-Colored Tops – Khaki skirts are extremely urban, and because of its neutral shade, all dark colored blouses go well with them. If you have a heavier upper body, wear a loose fitted top along with a khaki skirt and pair with a leather jacket.
For a dramatic look, wear a full-sleeved black top, a pencil skirt with a belt, and a pair of black stockings.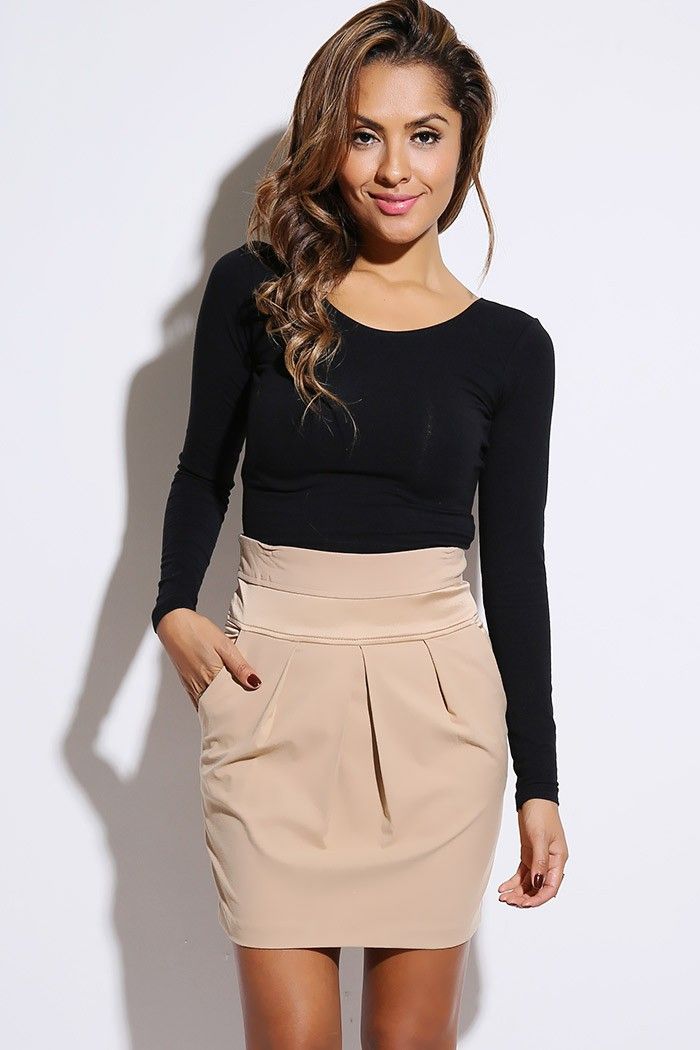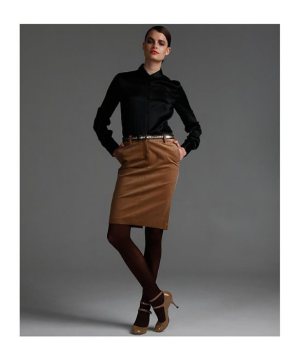 Shoes All sorts of heels
Accessories stud earrings and belts
4. Striped Pencil Skirts
With Sweaters – Horizontal stripes are good for very tall women to subdue their height. Wear it with tank tops for a casual chic look. Choose a zebra printed skirt which ends just a few inches above the knee as it will make your legs appear elongated. Wear with loose tops and stockings or leggings while going to school or college. If you wish, wrap around a scarf for a bohemian charm.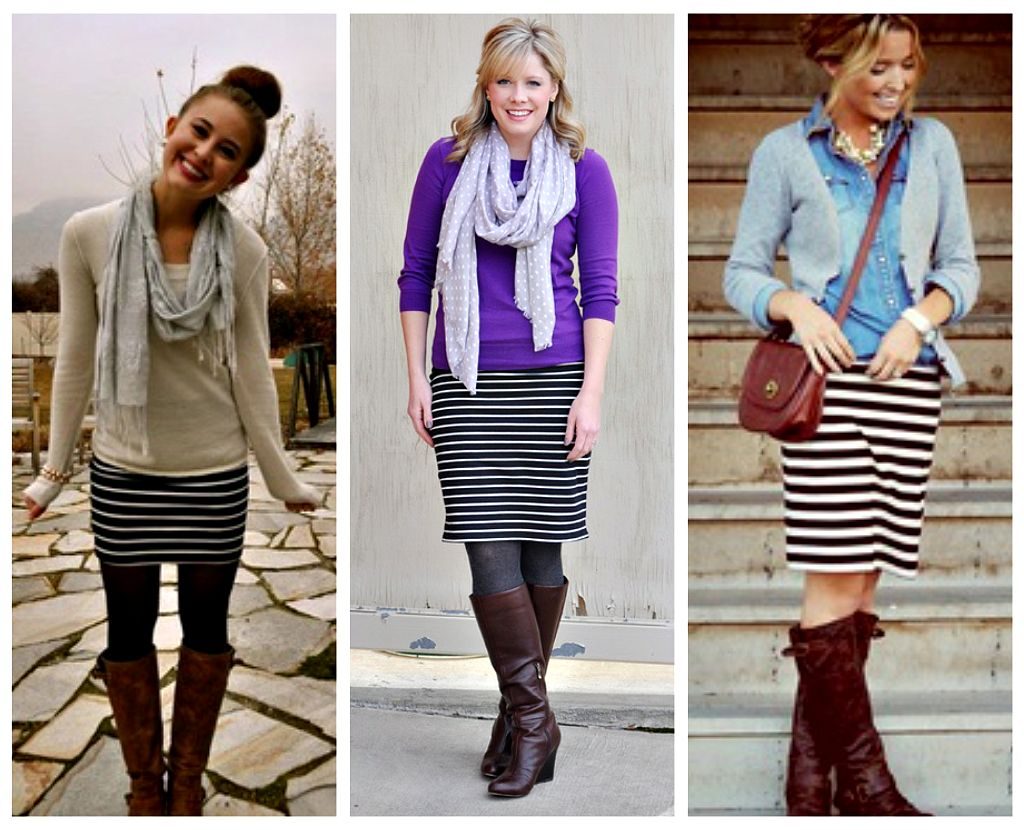 Skirts with vertical stripes are apt for short and petite women, giving them a taller look.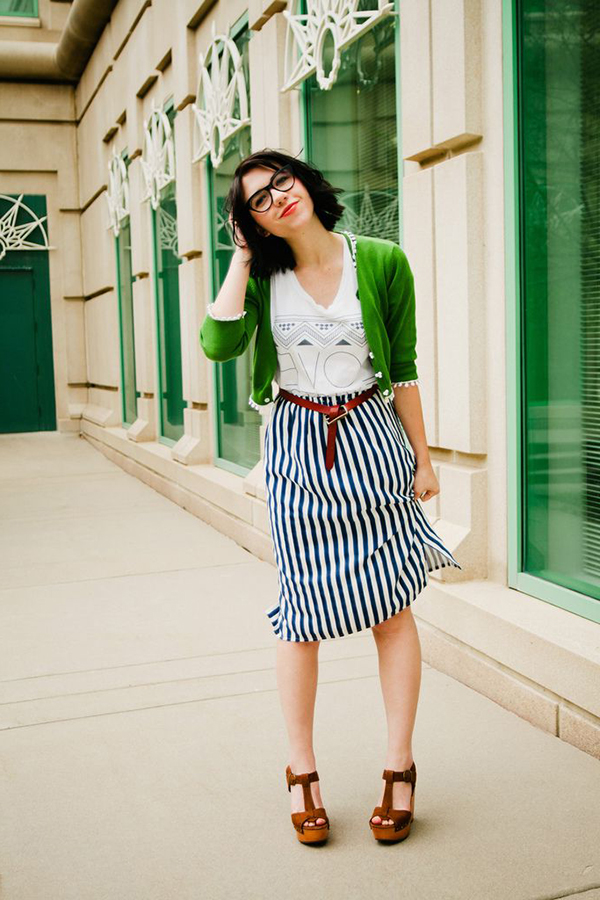 Shoes Stilettos or leather boots
Accessories Scarves and belts
5. Leather Pencil Skirts
There are various shades available, but black is the most sought-after one. Don't forget to wear kohl and mascara, as these go well with leather skirts.
With Boatneck Tops – Women with A-line figures characterized by wide hips, thin torso, and waist, can wear a loose-fitted semi-sheer top with a leather pencil skirt.
With Semi-Sheer Tops – You can also tuck in a semi-sheer shirt with a midi pencil skirt to sport a sophisticated look.
With Full-Sleeved T-Shirts – For winter for while heading for a night out, or a dinner date with friends on Christmas. A leather jacket can finely accompany you.
For a more striking look, try out unusual shades of leather skirts like burgundy and pink.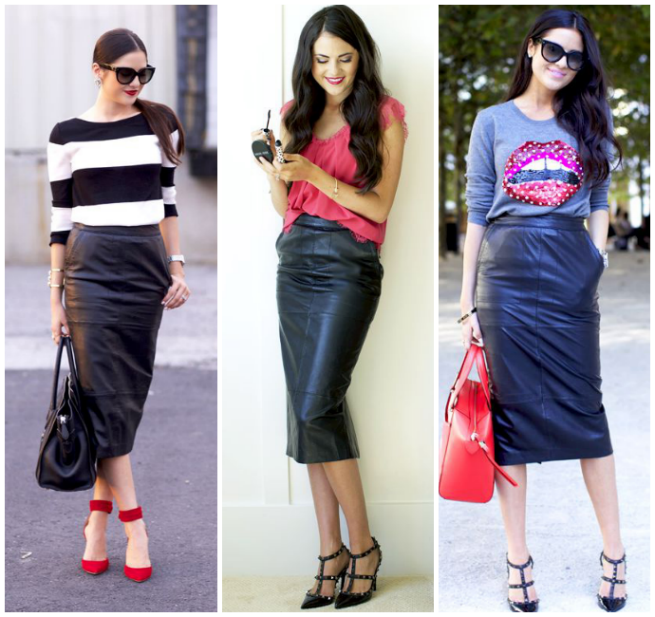 Shoes Closed-toe heels or ankle-length gladiators
Accessories Statement watches and medium-sized handbags
6. Lace Pencil Skirts
Light-Colored Tops – Lace skirts are typically feminine, hence ideal for attending wedding parties, bachelorette brunch parties, and other girly occasions, especially during the fall season. Black, nude, white, beige – try out all shades to be a trendsetter.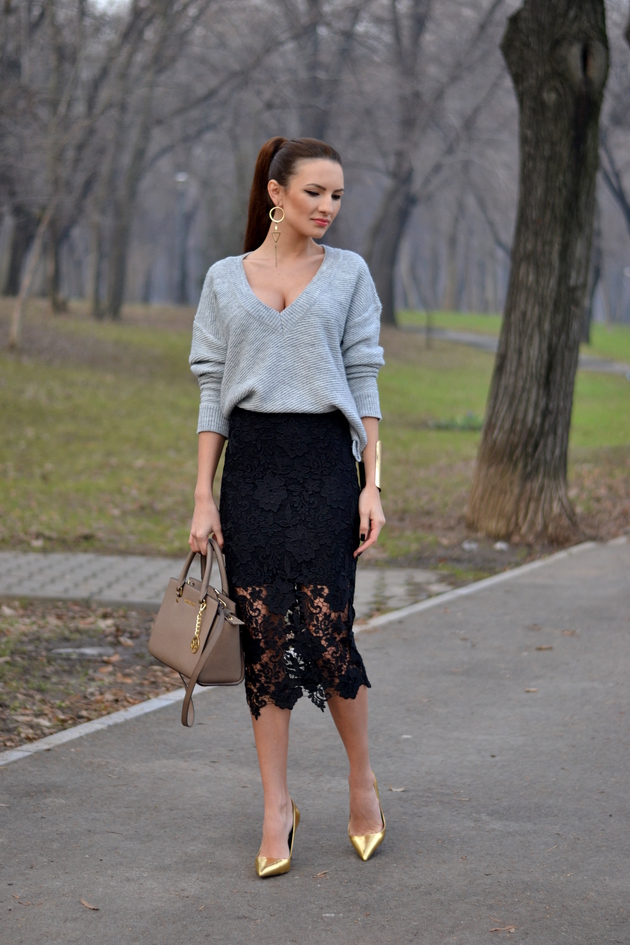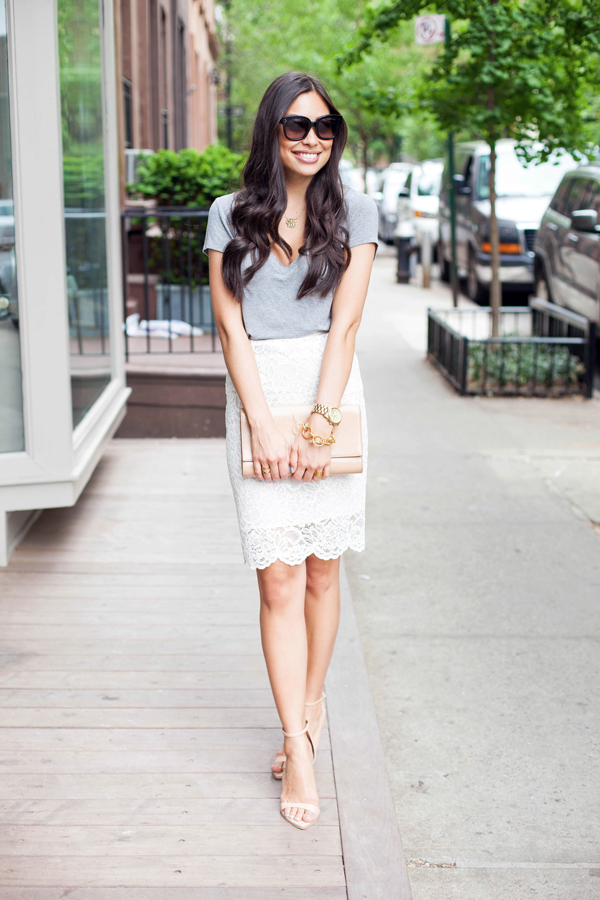 Shoes Anything your heart desires
Accessories Hoop earrings, watches, top handle bags or clutches
7. Metallic Pencil Skirts
With Crop or a Loose-fitted Tops – Metallic pencil skirts are simply the best for a dramatic look. If you have a small torso, wear a mid- or low-waisted long pencil skirt and team them up with a  without tucking it in. For a movie date, such an outfit will blow the mind of your significant other.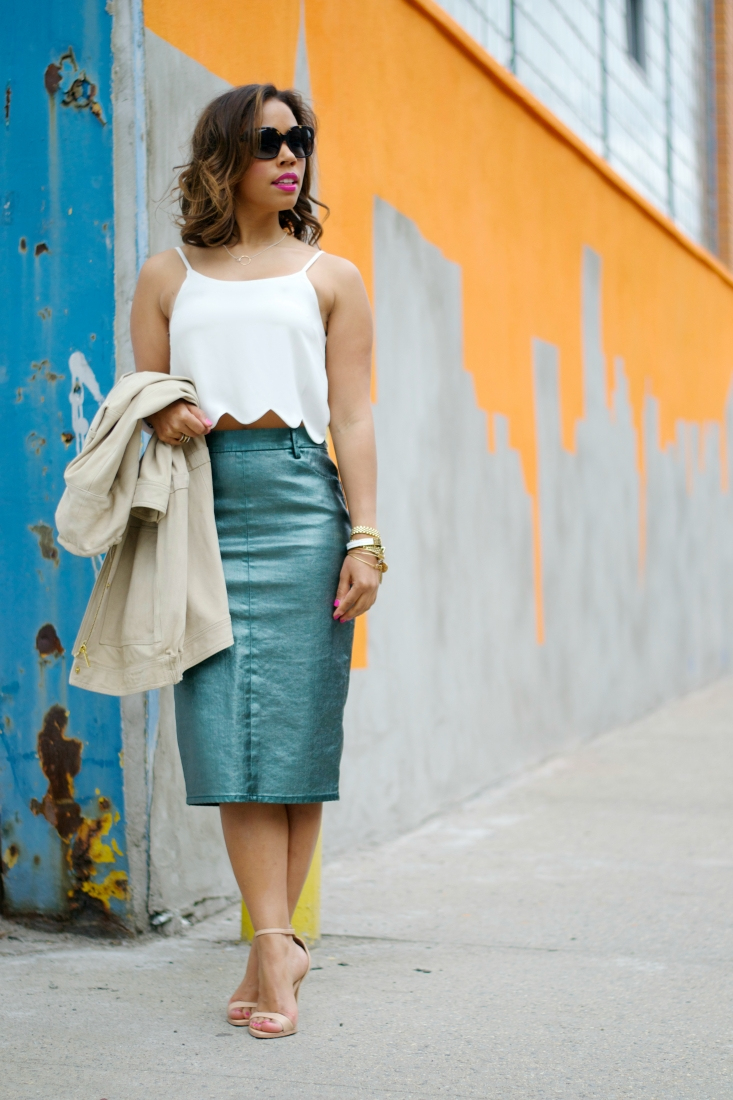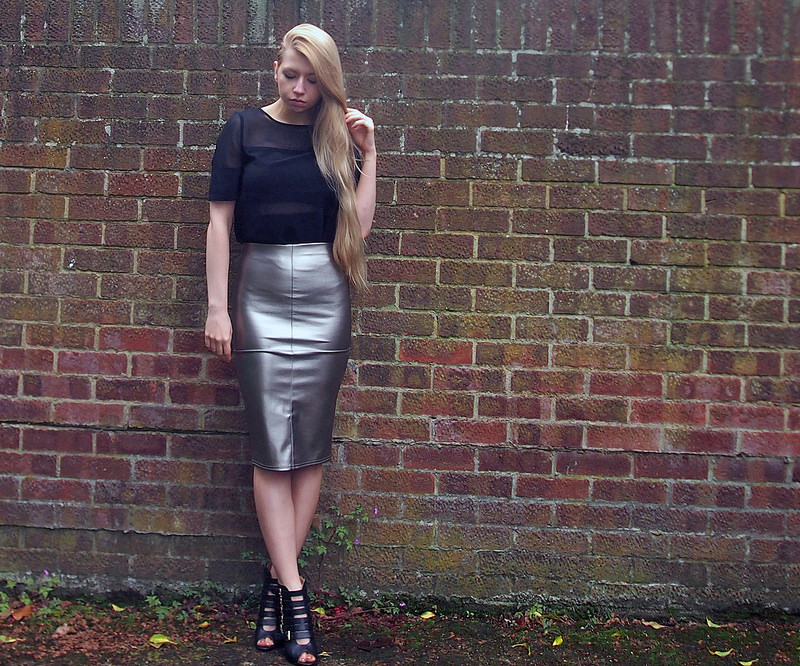 Shoes Stilettos or wedges
Accessories Stacked bracelets, jackets
A Few More Tips for Wearing Pencil Skirts
Ruched high waisted pencil skirts, defined by gathered fabrics, hide round tummies or wide thighs.
Choose pencil skirts with ruffles if you have love handles (wide waist) or a pear-shaped body, to flaunt the famous rockabilly style.
Gold or silver sequin pencil skirts are best teamed with simple cotton shirts, preferably white, to highlight the skirt.
Wear velvet skirts with sweaters, cardigans or jumpers for a chic look.
For scorching hot days, choose jersey or knit pencil skirts of white, purple, mint green, olive, orange, gray or some bright neon shades. White tops are perfect for these.
For a fresh spring look, wear a floral pencil skirt, team it up with any light colored top and a pair of sneakers.
A shapewear beneath your skirt can make your figure appear perfect.
For a slimmer look, wear dark colored pencil skirts, like maroon, mustards and black, with light colored tops.
To look taller wear mini pencil skirts with either front zippers or a slit. Also, wear shoes that reveal your ankle bone.
For an apple-shaped body, wear structured knee-length pencil skirts with tops having fine embellishments or heavy embroidery.
As fashion and comfort go hand in hand, one should not be compromised for the sake of the other. So, follow the tips and attend casual or formal occasions like a diva.