How to Tell Fake Oakleys from Real
Spotting fake Oakley sunglasses is easier when you are aware of certain exclusive features of the brand. Just as the price is the biggest clincher, there are a few more things regarding the packaging and documents apart from the physical features of the sunglasses that will help you recognize the real and fake ones.
How to Spot Fake Oakleys: 11 Differences Between Real and Fake Oakleys
1. Box– A pair of original Oakley always comes in a retail box showcasing the official logo, proper barcodes, manufacturing details, model number, and its lens and frame description. But some fake sunglasses don't even have the box, and the ones packed inside such boxes have discrepancies in these details.
2. Dust Cloth Bag- Some real Oakleys are packed inside a soft pouch. The material of the pouch should be fine, with proper stitching along with the logo. Fake watches might come in such dust bags with uneven stitches and an improper logo.
*Some models come in hard cases instead of cloth bags, for that you have to check the logo. Sometimes there is not any logo even on those original bags, and so it is not a sole feature to rely on.
*Some fake watches have nylon bags and not cloth bags, although some real vintage models like Frogskins, Vintage Blades, and Eyeshades had nylon bags with "Oakley" imprinted on them along with cloth bags.
3. Documents- Real Oakleys will always have their warranty card and certificates of authenticity along with the models. The folded warranty card displays a big round "O" on it. Counterfeits fail to produce them.
4. Manufacturing Detail- Formerly, real Oakleys were always manufactured in the USA, and it is either printed or engraved on the inner side of the right temples. But presently, this is not the case as the USA is not the only country that produces them.
5. Logo- All models of Oakley display an embedded logo "O" on the temple of the sunglasses. Fake sunglasses either miss this feature or print the logo on the lenses.
The placement of logo is another thing you must check as a few counterfeits have logos on some parts of the sunglasses which you will never find in the original models.
For Holbrook model, check out the temple where the model name is written. Original watches exhibit the "O" in a more thicker font on the sides and it becomes thinner towards the top and bottom. The "O" in fake Holbrook models do not show such features and often come up as a simple "O".
Also, near the hinges, the "O" shaped metal in the real watches is uneven; needless to say, you will find a smooth "O" on counterfeits.
6. Quality– Only high-quality durable materials are used for making Oakley sunglasses. For example, for plastic framed sunglasses the company use only pre-dyed plastic that will not flake. It also means that the plastic of the sunglasses has the same shade throughout. But forged sunglasses lack the feature, and if you notice the hinge area by folding the stems, you will see multiple shades.
Original sunglasses also have fine seams, and phony Oakleys use cheaper materials for which you might even notice raised seams.
7. Lens marks– Usually "polarized" and "prism" are written on the real sunglasses having those lenses. The M collection showcases "Oakley" written on their lenses right above the nose bridge. A few models have some different etching on their lenses like the Ferrari and Tour de France collection. Also, people can personalize the etching on the lenses by the authentic Oakley manufacturer.
Fake sunglasses usually do not follow the logo etching and end up producing sunglasses with discrepancies.
*Oakleys do not print anything on the lenses as they etch instead. So, this is a big way to distinguish a fake Oakley.
Exceptions
Oakleys with non-prescriptive lenses do not have the official logo on the lenses but some genuine prescriptive lenses might have that on the lower corner of the lenses.
Industrial and Ballistic lenses of real Oakleys have the official logo etched into their lenses.
8. Stickers-Real Oakleys with polarized lenses have a fine quality "P" sticker on the lower part of the lenses. But unauthentic Oakleys have poorly made stickers that often stick through in pieces when pulled off.
9. SKU- The older versions of original Oakleys used to showcase SKU meaning Stock Keeping Unit (alphanumeric code) in a pattern that starts with two numbers followed by a hyphen and three numbers. In new models of Oakleys, this code starts with double "O" then four numbers, a hyphen and concludes with two numbers. Unauthentic sunglasses might use the number "0" instead of the letter "O".
This SKU is printed on originals so it might be removed after a certain time. So, if you buy a second-model and don't find this code, don't discard that as a fake solely on this basis.
For real Holbrook models, there is an elliptical "O" between the frame specs instead of a hyphen and square, which are common in fakes.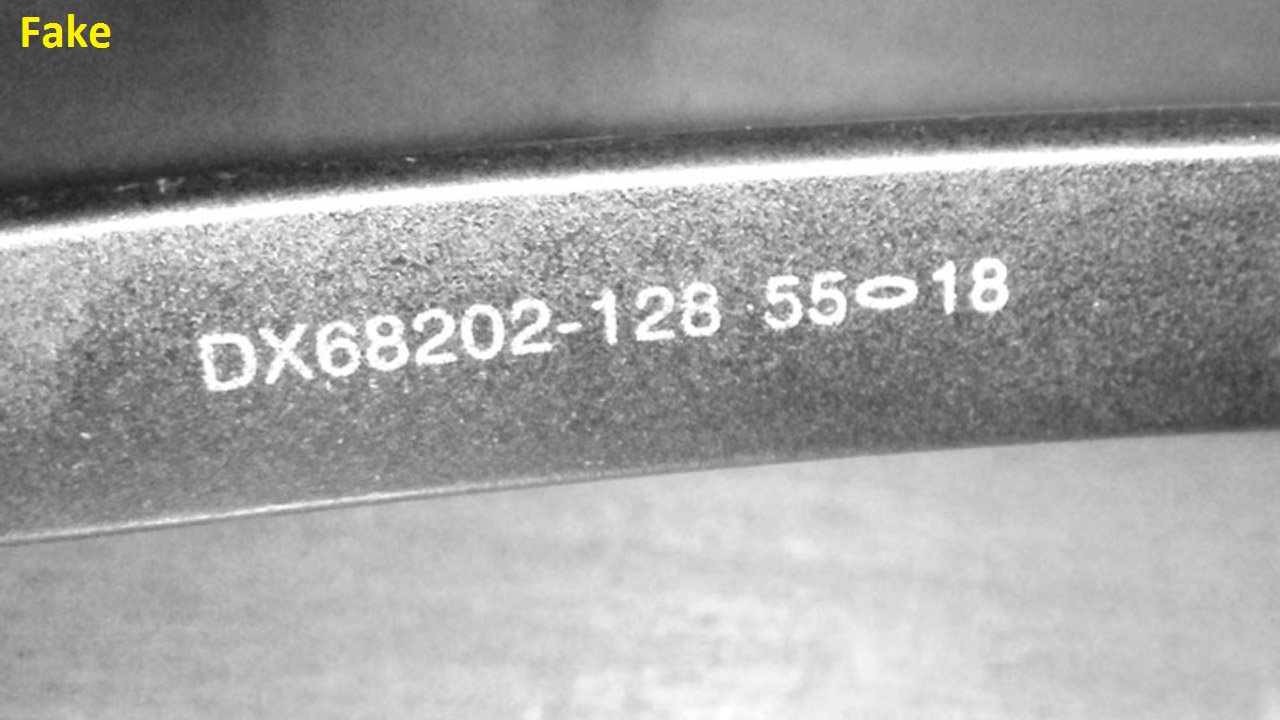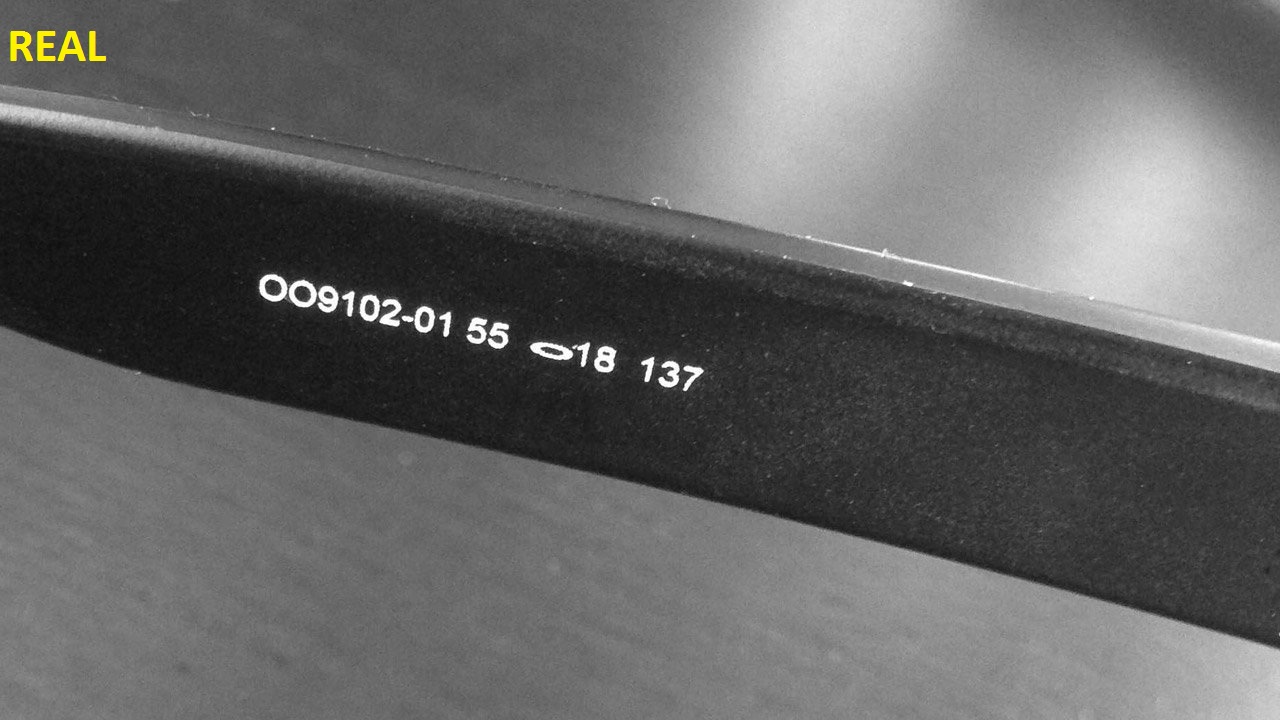 10.Rubber Pieces- Some authentic models have a spongy and soft rubber under the nose bridge and temples. Counterfeit ones either miss the feature and when they don't, they use a shiny and hard rubber.
11. Part Number- You will also find part numbers of Holbrook models when you fold the hinge in genuine watches. Fake ones do not have them.
Oakleys, being a famous brand is endowed with such unique features which are either jointly or separately missing from the unauthentic sunglasses. Some features might not be applicable for all genuine sunglasses but be it Radar, Gascan, and other models, you will need most of the above-mentioned features to distinguish the real ones from the fakes.