Best Dresses for an Hourglass Figure
An hourglass figure is blessed with a curvy bust same as the hip along with a naturally cinched waistline. The balanced curves are its key features, so, instead of concealing, you should accentuate them through figure-hugging dresses with plunging necklines.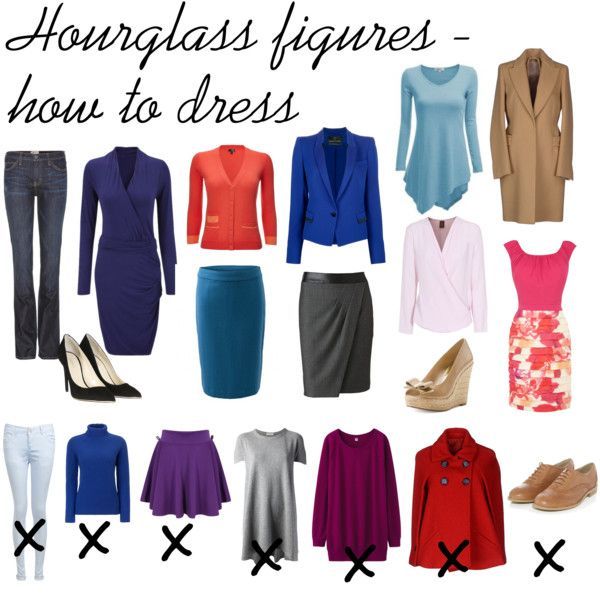 How to Dress an Hourglass Figure: Suitable Clothing Ideas
Fitted Tops and Blouses
Fancy and simple tops ending above your waistline are an ideal upper wear as they don't mask the thin waist. Wrap and peplum tops give a slimming effect to the chubby upper body and make the waist voluminous instead. Teaming them with apposite skirts should also make the hip slimmer for a balanced look.  For a taller and slimmer appearance, choose tops covering your hip line. Also, dark-colored tops make your bust less curvaceous.
Neckline:
Tops should have a defined shoulder and deep necklines. For highlighting the upper body, try round or "v" shaped necklines. However, boat neck tops also complement your balanced figure with their structured shoulder. Ruffles and frills should be avoided as they make your bust bigger and disproportionate to your bottom.
Sleeves:
You are good to go with any sleeves, but the trick to draw attention towards your waistline always lies in choosing three-quarter or elbow length sleeves. However, cap sleeves are also flattering.
Fabrics:
If you have a big tummy then tops with supportive fabrics will do. Tops made of fluid fabrics like silk and satin are easy to hug your curves while stiff fabrics camouflage your actual shape, however with tailoring and alteration you may achieve your desired design.
Hemline:
Curved hems offer space to your hip area to accentuate themselves but a straight hemline can only sit tightly on your hip, lending an unappealing look.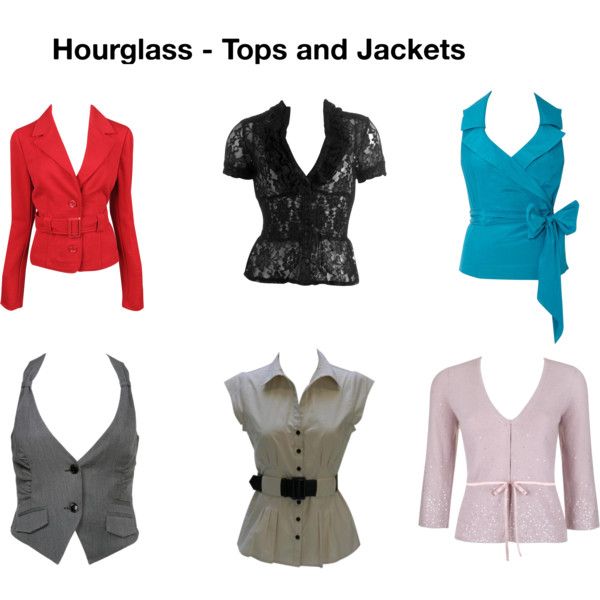 Short Jackets
Single breasted jackets with an elasticized waistband are flattering options for hourglass figures. Regardless of whether you are slim or overweight, bomber jackets, cropped and fitted blazers and belted trench coats are your perfect accessory to rely on. Also, jackets which get slimmer on the waist and flared towards the hip complement your figure.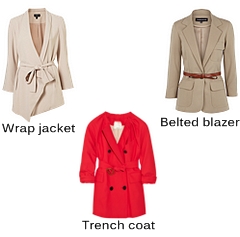 Knee-Length Skirts
By showcasing your legs, curvy ankles, and knees, pencil skirts or A-line skirts emphasize your balanced bottom. The hemlines and designs like a little ruffle all indicate a more defined bottom, so teaming them with tucked in tops complement your figure.
You may also wear untucked tops or fitted sweaters along with A-line skirts for showcasing the figure perfectly. Pleated or skater skirts started with a waistband offer a break from the curvy body and do not let the bottom look overly fat. Peplum skirts deserve to be teamed up with peplum tops.
If you have to choose something long, then go for mermaid skirts that accentuate your curvy bottom just like a pencil skirt.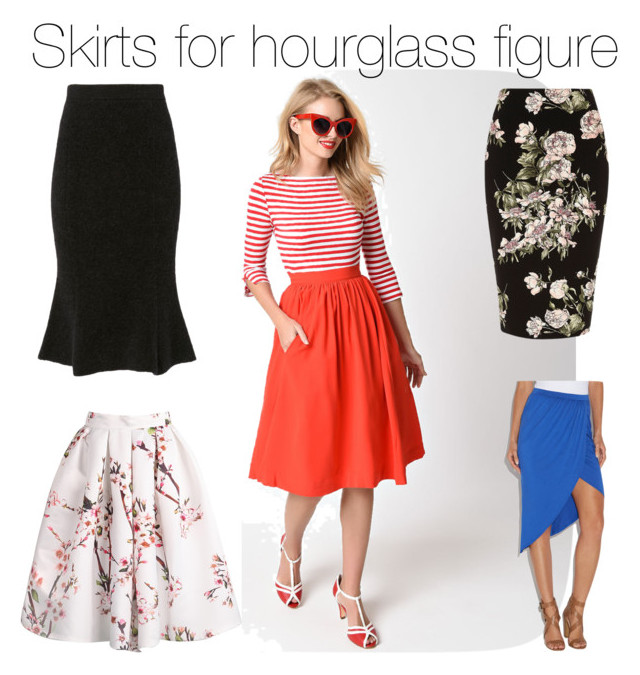 Bodycon Dresses
Wrap around dresses with a plunging neckline exhibit your proportionate cleavage, the plump bust and hips along with the thin waist. It would be better to stay away from dresses that have heavy embellishments on the highlighting features of your body. Not only do they make you even chubbier, but also make your balanced figure unflattering.
The silhouette of a mermaid dress also makes your already perfect figure appealing. Off shoulder figure-hugging maxi dresses are wonderful options for wedding and prom purposes.
Mid-length sheath dresses are best for bridesmaids with an hourglass figure. Similarly, for a cocktail party, opt for bodycons in solid shades as they ensure a slimmer appearance. If you are a great fan of fit and flare dresses then choose those which are fitted to your hip and then get flared afterward.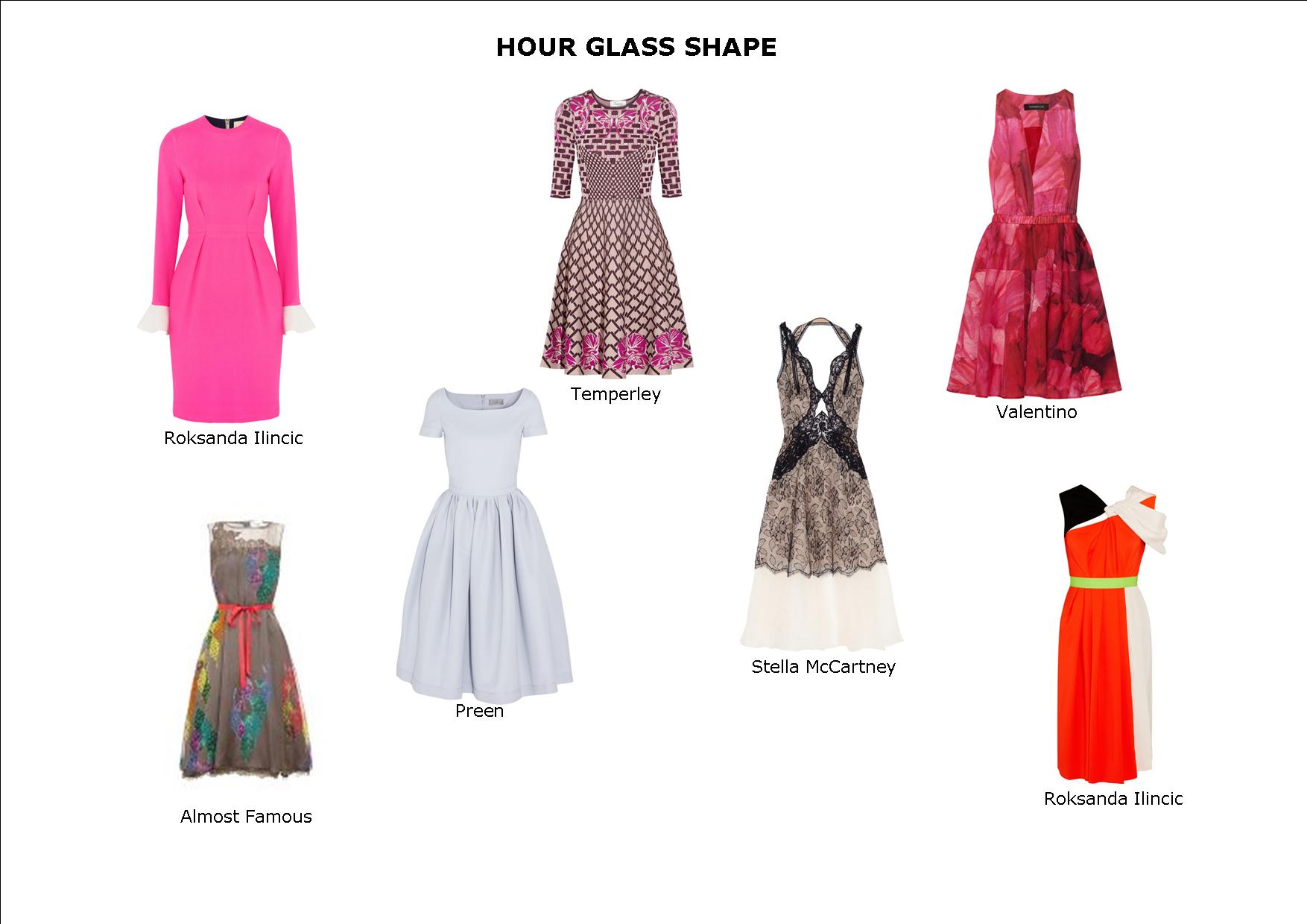 Flare Bottom Trousers and Pants
Flare bottom bootcut jeans cover the chubby ankle, and give a proportionate look to your bottom. Slim fitted skinny jeans if not worn with belted or banded tops accentuate that chubby ankle which might go against your look. Also, you may try high waisted pants for giving that waistline a little bit more definition. Cargo pants or pants with flip pockets will also do justice to your figure.
Rule of Thumb
The belted look is always a positive thing for you, so, whenever in doubt, belt up your dress or pants for a more accentuated shape.
The straps of a swimsuit should sit on the center of your shoulder and not on sides. Simple tops will look great with simple bottoms and vice versa.
Choose one-piece dresses having same colors around the bust and hip.
Neckpieces ending at and below your collarbones can highlight your bust area a little bit more.
An hourglass body, as many women desire, is believed to be perfect, but the perfection depends on how well you can carry yourself. Choosing dresses that you are comfortable in is the basic condition to look good. So, take inspirations from the ideas given above and have a pretty you in the mirror.