How to Wear Crop Top Outfits
Crop tops are short and mostly well-fitted tops that end above your midriff, imparting a strong sense of chic fashion. Depending on whether you have toned abs or not, you may team them up with high or low waisted bottoms like skirts, jeans, and shorts. Experimenting with their sleeves and necklines is also a fashion-friendly way to look glamorous, just like top models on magazine covers.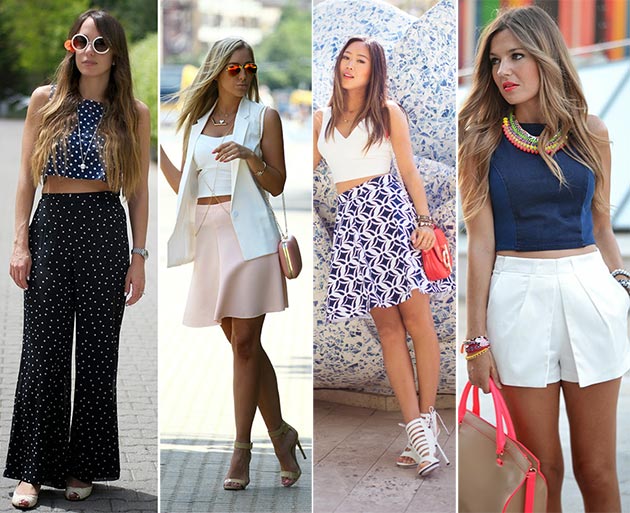 What to Wear with a Crop Top
Skirt and Crop Top Outfits
Maxi skirts: Long satin gowns worn together with contrasting crop tops look dressy. A cream top and a crimson skirt is a beautiful combination for a gala evening reception party or a bridesmaid attire. The only peek-a-boo factor, being the midriff, enhances your look. Plus size women, instead of sleeveless tops should go for turtleneck tops with full sleeves. Sometimes, for winter, you may try woolen tops and long skirts.
Peplum Skirts: Body-hugging peplums and halter neck crop tops make a wonderful silhouette for all women. The mermaid-like effect will slim down your wide waist and chubby thighs. Horizontally striped skirts and monochromatic crop tops look good on tall women. Short girls may opt for skirts having ruffles at the end of the hemline. Instead of peplum skirts, you may go for bandage skirts as well.
Skater Skirts: Short skater skirts or circle skirts complement crop tops like anything. Exposing your midriff and legs is a sure-fire way to look taller. Also, the material of the skirt gives you a different appearance. For example, a lacy skirt along with similar crop top or an embellished one preferably with a halter neckline makes you appear as a docile school girl, while a leather ensemble is sure to give an edgy vibe.
Crop Top and Shorts Outfits
Denim shorts or cotton shorts go well with any kinds of crop tops. While a pair of ripped shorts conforms to rusticity the delicate crop top will balance it off with its urban look. For a black crop top, dark blue denim shorts will work best. For monochromatic outfits, try white shorts and white crochet tops. You can layer the look along with a flannel shirt. If you are willing to experiment, then choose a solid colored top and select high waisted floral or Aztec short pants. Wearing them with suspenders will also enhance the look. If you wish for a different approach, then select a colorful Ankara printed top and pair it with a simple pair of shorts.