What Kinds of Shoes to Wear with Leggings
As leggings are not a mere fad, rather they are here to stay, it is time to throw lights on suitable footwear options. Strike off strappy shoes covering the edge of leggings from your list because they make your appearance lousy.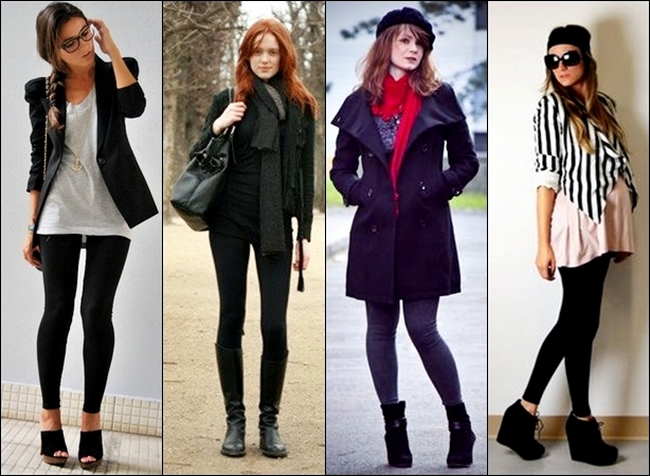 5+ Best Shoes and Leggings Combinations
Leggings with Boots
Knee-high boots: Sometimes, leggings might have a calf widening effect visually, and for toning it down, wear slouchy knee-high boots. Also, women with thick legs could use a combination of black or brown leggings and brown suede boots for a typical winter evening attire. Be it Christmas leggings, patterned ones or tribal leggings, knee-high boots subdue the excess effect creating a balance.
Mid-calf boots: Summer calls for mid-calf boots paired with leggings for a fresh and younger look. These graceful boots conceal chubby ankle when plus size women wear them tucked in leggings. An ensemble of same colored leggings underneath shorts and combat boots gives an impression of longer legs, making you a leggy lass, whereas, chunky booties with printed leopard leggings, galaxy or disco leggings are undoubtedly edgy.
Ankle-high boots: Leather leggings and ankle booties are a hot combo for making thin and extra legs thick and shorter in appearance. Cute flat boots are a comfortable solution to go well with cropped and full-length leggings teamed up with tunics, long denim or flannel shirts. Wear layered socks or leg warmers to make skinny legs appear voluminous. These booties along with liquid leggings have an impactful appearance for a night out. Also, skirty leggings or the ones under fit-and-flare dresses with boots look ethereal.
Leggings with Tennis Shoes and Sneakers
Since sneakers fit the bill for sporty looks wear canvas shoes with athletic or yoga leggings, often ending just below your knee or mid-calf, for your exercise at the gym. Bootcut leggings also look good with sneakers.
The breathable fabric of sneakers or tennis shoes allows your feet to stay fresh even after a long day of walk, so while on one hand for attending a concert with your friends you can wear high top bling sneakers with leather or velvet leggings, on the other, with shiny and sequined leggings, simple sneakers or converse will do.