Stylish Dresses to Wear with Cowboy Boots
Starting from Marilyn Monroe to Beyoncé, cowboy boots have adorned many celebrities without being clichéd. The low heeled boots with embellished borders make a trendy counterpart to your wardrobe staples like sundresses, skirts, and jeans, only if you know how to balance the ensemble.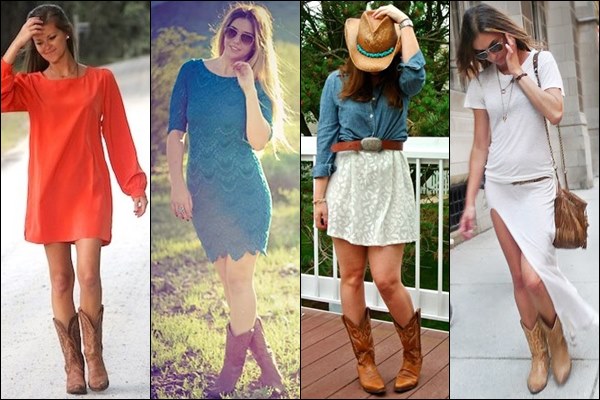 What to Wear with Women's Cowboy Boots and How to Fashion Them
1. Gowns for Weddings
Asymmetrical Bridal Gowns: A long trail lace wedding gown having a high and short front gives ample opportunities to show off a pair of cowboy boots for a rustic and vintage country themed wedding. This high low silhouette is perfect for women having a petite bottom with longer legs. Also, if you are a plus size woman, you can opt for such bridal ensemble to cover up your chubby mid-calf.
Short Ruffled Bridesmaids Gowns: Peach or light cream colored off shoulder short gowns, well coordinated with leather belts and cowboy boots have a countryside flavor. You can rock the look without having to worry about your figure, as beauty comes in all sizes.
Fitted Lacy Dresses for Guests: The pair that rocked early 20's and 30's complement lacy dresses as well. It could be a short-sleeved high neck dresses with a small peek-a-boo effect at the bottom or a cocktail sheath dress coupled with cowboy boots and denim jacket entailing a "country style meets urban's". Also, if you are an expecting woman, then wear a tea length maternity dress with cowboy boots as the low heels will help you with your step.
2. Sundresses for Outings
For Slim Women: Short sleeveless tunic dresses ending just above your knees and cowboy boots make a cute outfit for slender women. For example, a pale colored dress with a round neckline and a pair of light brown boots offer an easy breezy boho summer and spring look. Wear chunky bangles and take a fringed sling bag for a perfect prom ensemble.
For Curvy Women: Plus size women may opt for chiffon dresses as the material conceals prominent thighs, broad shoulders, and chubby midriff. A combination of turquoise dress and pink boots make a nice combination.