How to do Smokey Eye Makeup for Brown Eyes
Having a pair of brown eyes means you are one of the lucky few to be able to use an entire eyeshadow palette. Now, for a monochromatic smokey makeup, choose dark shades like violet, black, and gray, while using multiple shades together darkens the smokey look further.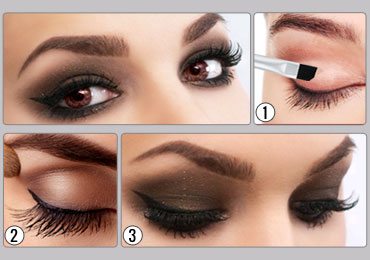 Step-by-Step Smokey Eye Tutorials for Brown Eyes
The first step before any eye makeup is choosing a good quality primer and applying on your eyelids before you proceed with the following:
Smokey Eyes with Grey Eyeshadow
Take a light shade of grey eyeshadow and use it on your eyelid
Pick a darker grey shade and apply it from the outer v to drag it towards the middle
Add some glittery grey on the inner corner
Use your kohl and mascara as much as you want to team up this grey smokey look with voluminous lashes
Smokey Eyes with Brown Eyeshadow
Take matte brown eyeshadow and apply it on your crease
Take a darker shade of brown and smudge it smoothly on the outer v and the middle part of your eyelid, (it could be replaced with kohl although)
Take a glittery variation of brown eyeshadow and apply that on the brow bone
You may use the dark brown eyeshadow on the lower lash line for a more defining look
Gently brush the dark eyeshadow on the lower lash line
Wearing kohl is optional, but smudging all the eyeshadow shades together is a must. Every woman with brown eyes can exhibit the makeup, regardless of their complexion.
 Smokey Eyes with Black Eyeshadow
Brush off black eyeshadow from your outer v towards the inner corner
Apply kohl in a thick line
Smudge that along with your eyeshadow and get a smokey look
This same process can be done with navy blue and purple shades. Using kohl and smudging this with the eyeshadow is a normal and regular process for a daytime look.
Smokey Eyes with Rose Pink Eyeshadow
Apply some silver on your lid
Highlight your outer v with rose pink eyeshadow and darken it unless you get your desired texture
Seal the makeup with eyeliner
For a variation from pink, you may try different smokey looks with purple eyeshadow.
The trendy eye makeup of smokey eyes is not anymore restricted to dark colors only as light shades are successfully used. Regardless of your blonde, black or red hair, these makeup tricks are for all.