How to Apply Eye Makeup for Hooded Eyes
Hooded eyes have a small appearance due to an extra layer of skin on the crease (from your brow bone to the upper lash line). For downturned hooded eyes your primary aim will be to give them a lifted appearance, while for normal hooded eyes, you will be focusing on enlarging them. Needless to say, both depend on the right application of eyeshadows.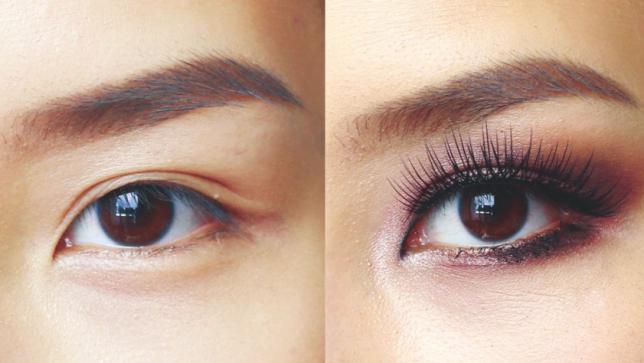 10 Tutorial Tips for Your Hooded Eyes
1. Use Eye Primer
Applying primer prevents the makeup from smudging on the upper lid as this is, unfortunately, the first thing to happen with hooded eyes. Concealer or foundation will also do instead of the primer.
2. Open Eyes while Applying Makeup
It is difficult to spot your crease when the eyes are closed, so keep them open during the process.
3. Choose Matte Products
Matte shades do not draw the attention on the hooded part while shimmery eyeshadows highlight the part (by reflecting light) it is applied on. So, go for a combination trick by applying matte eyeshadows on your upper lid and the shimmery one on the lower middle part of your lid, on top of your upper lash.
4. Select Waterproof Makeup
Mascara and liner should be waterproof so that they don't get smudged against your brow bone. You can also transform your regular liner into a smudge-proof one, by dabbing little powder on them.
5. Make Your Crease
You can create a faux crease by applying two different shades of eyeshadow. Use a dark matte eyeshadow on your socket for adding a depth, followed by another eyeshadow in a lighter shade just above it. Merge it towards the brow bone but do not cross the browline. This application ensures that your eyes look bigger.
6. Highlight the Corner and Brow Bone
Use a light-textured highlighter on the inner corner of your eyes along with the part under your brows to emphasize. This way, you can divert the attention towards them.
7. Apply Contour to Your Lower Lid
This step is essential as it contours the eye makeup nicely. Apply stick eye color on the lower lid and continue towards the inner corner of your eyes. The line will be a bit wider in the beginning but should be thinner by the end of the inner corner.
8. Go for "Cut Crease" Technique
This is a process of making a faux crease that doesn't exist in hooded eyes. Apply eyeliner to draw an arch from the outer "v" of your eyes and bring it towards your corner. Make sure to make it thinner gradually. If the edge is rounder, it will make your eyes look bigger. Blend the liner softly by brushing it upwards and towards the corner of the eye. The bottom-line of the arch is the defining factor so, it should not be smudged. Even if does, then use a cotton ball to remove the excess part. Now apply matte eyeliner on the upper side of the arch and blend it gently. Contour the lower lid as mentioned above.
You may opt for a gradient smokey look following the same tutorial step-by-step. Some women choose glitters to make that arch for a dramatic makeup.
9. Go for Winged Eyes or Cats-Eyes
Apply eyeliner on a regular method and stop at the outer edge. Now, look at the mirror straight and gently extend the liner upwards. If you find this difficult then, draw a line straight from the lower lash line and extend it diagonally. Now draw another line from the upper lash line and join it with that extension.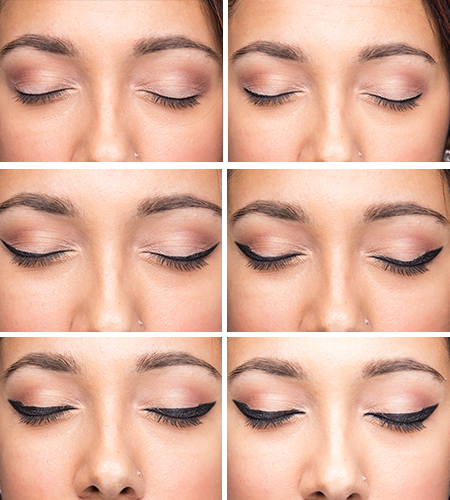 10. Apply Mascara
Make your lashes voluminous and one of the highlighting points of your eye makeup using mascara.
All these tricks are effective on older, heavy, deep-set, and regular hooded eyes, if the products are aptly applied. Not only will your eyes appear bigger, but also better!