How to Apply Makeup for Downturned Eyes
Downturned or droopy eyes mean two outer corners of the eyes are downwards. So the obvious makeup motto is to lift them up in a way that you don't look sleepy. Since the upper lid looks bigger, you will have a spacious surface to apply your eyeshadow on your favor.
Instructions
Applying primer is the basic step for a long-lasting makeup. Instead of eye primer; you may use common primer or concealer as well.
Curl your eyelashes for a voluminous lash.
Use a light nude matte eyeshaodw as the base color and spread it all over the lid. The applying process should be upwards (like from upper lash line to brow bone) for the much needed lift.
Take one shade darker eyeshadow and brush it upwards from your upper lash line to crease.
Pat another eyeshadow which is darker than the previous two shades on your crease and blend it well towards the outer corner.
Use an eyeliner pencil (preferably lighter than black) on the upper lid by drawing from the corner of the eye and extending the end upwards, just like a cat-eye or winged style.
Applying white eyeliner on your lower waterline is equally effective in subduing the sloppiness of the eyes. This blesses the eyes with a roundness in contrast to its downward look. You may also apply a darker eyeliner on the lower lashline and extend the end upwards. Another easiest makeup is using kohl pencil and highlighting both the lash line. This is known as Arabic style that gives a roundness.
Put on multiple coats of mascara, more on the lashes on the outer corner to make the eyes look awake and bright.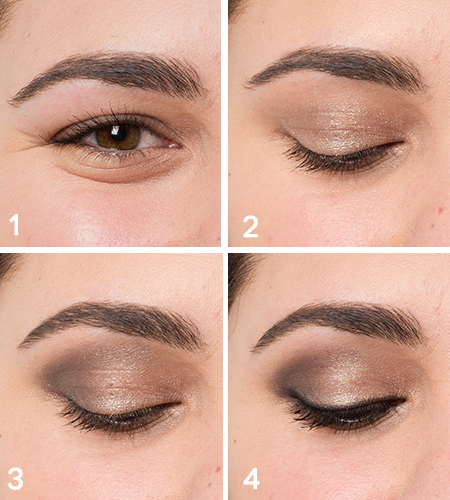 Remember, whichever style you choose to execute, blending the eyeshadows is the basic thing that ensures the good look.