How to Keep Your Eyeliner from Smudging
You must be tired of your eyeliner smudging halfway through the day, ruining your whole look, especially in a hot and humid weather. If you have oily skin, it's even more difficult to protect your eye makeup from smudging. No more worries ladies, as following are a few tips to keep the problem from occurring.
Prevent Your Eyeliner from Smudging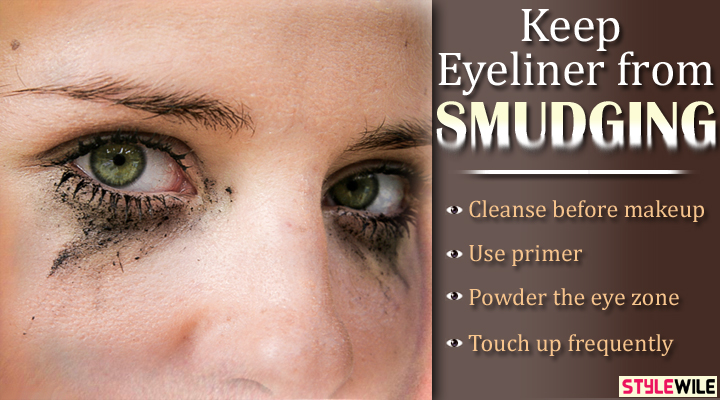 Cleansing and moisturizing before makeup – Eyeliner smudges especially due to wet or oily eyelids. Use a face wash to remove the excess oil and moisturize it afterward.
Add powder on face – Apply compact powder (suitable for your complexion) as it helps minimize the facial oil excretion, keeping the eyelids as well as the whole face dry.
Applying primer – Opt for eye primer in accordance with the skin complexion. It will be working as the base for the eye makeup. Keep in mind that the primer should be used in small amount to keep eyeliner intact. It needs to be dried up before moving onto next step.
Using dry eye shadow – If you choose to apply eye shadow then ensure the dryness of it. It is essential for the eye shadow to be completely dry. The eyeliner will not set on a moist base.
Frequent touch-up – Apply eyeliner with precision. If you are applying the liner on both eyelids ensure fine endings with proper care. Keep your eyeliners with you in need of frequent touch-ups in smudging prone area such as waterline.
Curling eyelashes – Bend your eyelashes of the both lids properly with the help of eyelash curler. Wavier the lashes, lesser the chances of smudging.
Using mascara – Apply mascara in the upper and lower eyelashes to keep the eyeliner intact all day long.
Powdering the eye zone – If you want to keep your eyeliner from smudging without a primer, you can also use pressed powder before doing the eye makeup. Use a small lay down brush for the application. Keep it vertical moving it from one side to another. Repeat it twice on each eyelid.
Blotting the excess oil – Apply blotting pads after the completion of makeup to soak up facial oil. This way your face will look radiant and bright along with the eyes.
Lock the look – Apply setting spray on the entire face. It is useful to set your face makeup for all day long.
These above-mentioned tricks are useful for all types of colored eyeliners, whether it is in the gel, pencil or liquid form. Bank upon these facts to get mesmerizing eyes throughout the day.