What to Wear to a Spray Tan
Artificial tanning is a quick way to get a beautiful complexion, even though it lasts for 8-10 days. The bronze shade looks marvelous only when it is evenly spread on the body, and that depends largely on the dress you wear during the process. Here are some ideas that you may follow for a successful tanning session.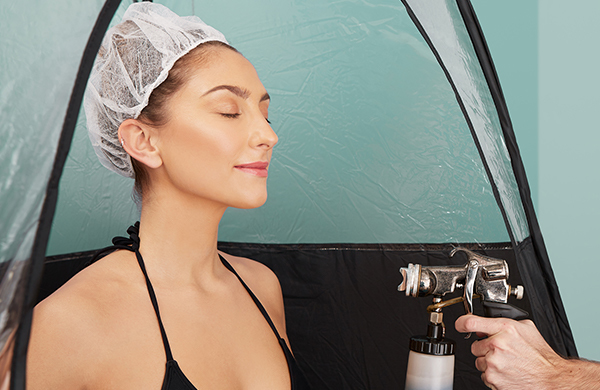 What to Wear When Getting a Spray Tan
Spray tanning is usually done within a private chamber, so if you are comfortable to take off your clothes for optimum tanning, you can do that, without any hesitation.
Disposable bikinis are sometimes provided by tan salons. If not, you can always buy some pairs prior to your tan appointments.
If you are wearing something other than your bikinis, remember the silhouette of the dress will leave tan lines on your body. Suppose you wear a pair of shorts and a tank top during the tanning and afterward don a bikini ensemble, the thighs, and the midriff will be showcasing your actual complexion while the rest of the skin will be tan. A major awkward situation! Isn't it?
What to Wear After a Spray Tan
Loose and breathable fabrics like oversized cotton jumpsuits are good as fitted or elasticized dresses can rub off some freshly sprayed tan solution. The colors should be dark like brown, black, and similar so that when they are stained, it won't be a problem.
Go for strapless lingerie after the session to avoid any tan lines to appear.
For footwear, flip-flops are the best, again for the same reason of being loose. The straps don't sit tightly on your foot and allow your tan to settle.
Wearing Jewelry post your tanning is a strict no-no as you don't want to ruin your tan. The friction of the metal and your skin might mess up the tan.
While sleeping, wear oversized t-shirts and sweatpants for winter, and during the summer season, it could be loose shorts along with t-shirts. You may consider sleeping on a dark colored bed sheet for not making the stains( there will be some, of course!) visible.
Avoid wearing any kind of makeup on your face and body.
Spray tanning, be it airbrush, airgun, custom, hand spray or mystic tanning, is expensive and you certainly don't want anything to go wrong. So, be cautious before and after the experience to lengthen the tan.