5 Reasons to Choose Romper Outfits and How to Wear Them
Rompers conform to the latest fashion craze with their comfortable material and chic style. With soothing tones and fresh prints, these one-piece garments are perfect for the warmer months. There are other ways to customize your romper ensemble for winter and fall as well.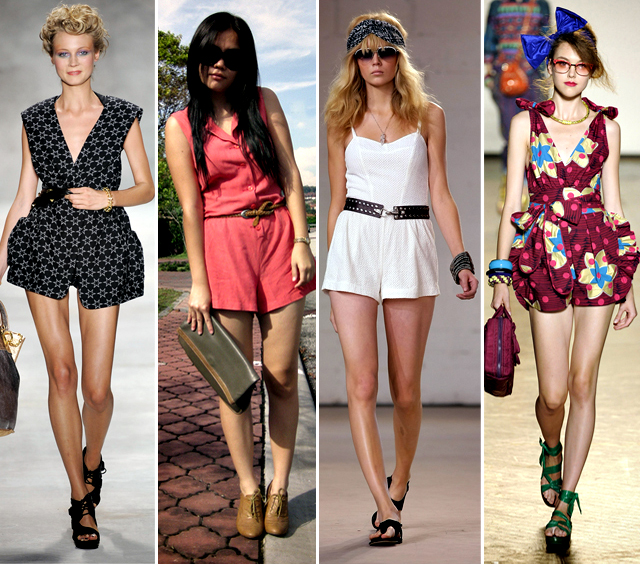 Why Are Rompers so Popular?
Smart Alternatives to Short Skirts- The pant-like bottom allows you to move your legs freely, without the risk of blowing up in heavy winds.
Expose Your Legs- Although this is exclusive for short rompers and not for jumpsuits, the length of rompers lets you wear any statement footwear collection.
Casual and Formal at the Same Time- From casual street fashion to formal red carpets, rompers are wearable to any places your heart desires.
Comfortably Fitting- These airy garments highlight your figure with their fitted waistline and relaxed structure.
Elongate your Appearance- Like other one-piece dresses, rompers also give you a longer and leaner look with their continuous silhouette.
Romper Outfit Ideas and What to Wear with Them
3 Cool Street Styles for Solid Colored Lacy Rompers
White (solid color) cotton rompers with lace and tan gladiator sandals make your afternoon hangout fashionably sorted. Since romper itself is a statement dress, no further accessories are required, just a messy braid will do.
Black lace romper with a cute tan belt makes you party ready. Wear strappy wedges or pumps and do not go for anything other than a tattoo choker or a rope necklace in black (if only the neckline of the romper allows).
Off shoulder lacy rompers in monochromes, mostly in peach or nude shades, look ethereal with sleek gold bracelets and stud earrings. Wear t-strap shoes in gold or beige to enhance the outfit.
4 Classy Fashion Ideas for Printed Rompers with Variant Necklines
Off shoulder rompers with geometrical prints complement all body shapes. The edgy prints are compatible with open hair or a messy bun, platform heels and sling bags.
Bright colored rompers like blue and red with floral prints would look perfect for winter even with a pair of stockings in black underneath. If you go for long jumpsuits, then try polka dots or tiny prints on solid shades. Blazers, shrugs or jackets will accompany your look. Try strappy flat shoes to retain the simplicity.
Rompers with works like zip lines, plunging necklines, short sleeves or no sleeves at all will be enticing enough for an after office party. Wear tie necklaces if you have a deep v-neckline and some chunky stacked bracelets to keep your appearance elegant. Ballerina flats or ankle boots are your options.
Short denim printed rompers also serve as the winter style when paired with sneakers.