How to Fashion Mini Skirt Outfits
Mini or short skirts are becoming a staple due to their versatile designs and innovative prints. Stretching from your waistline to thighs, the length reveals a lot of your legs, providing ample scopes to try out various shoes.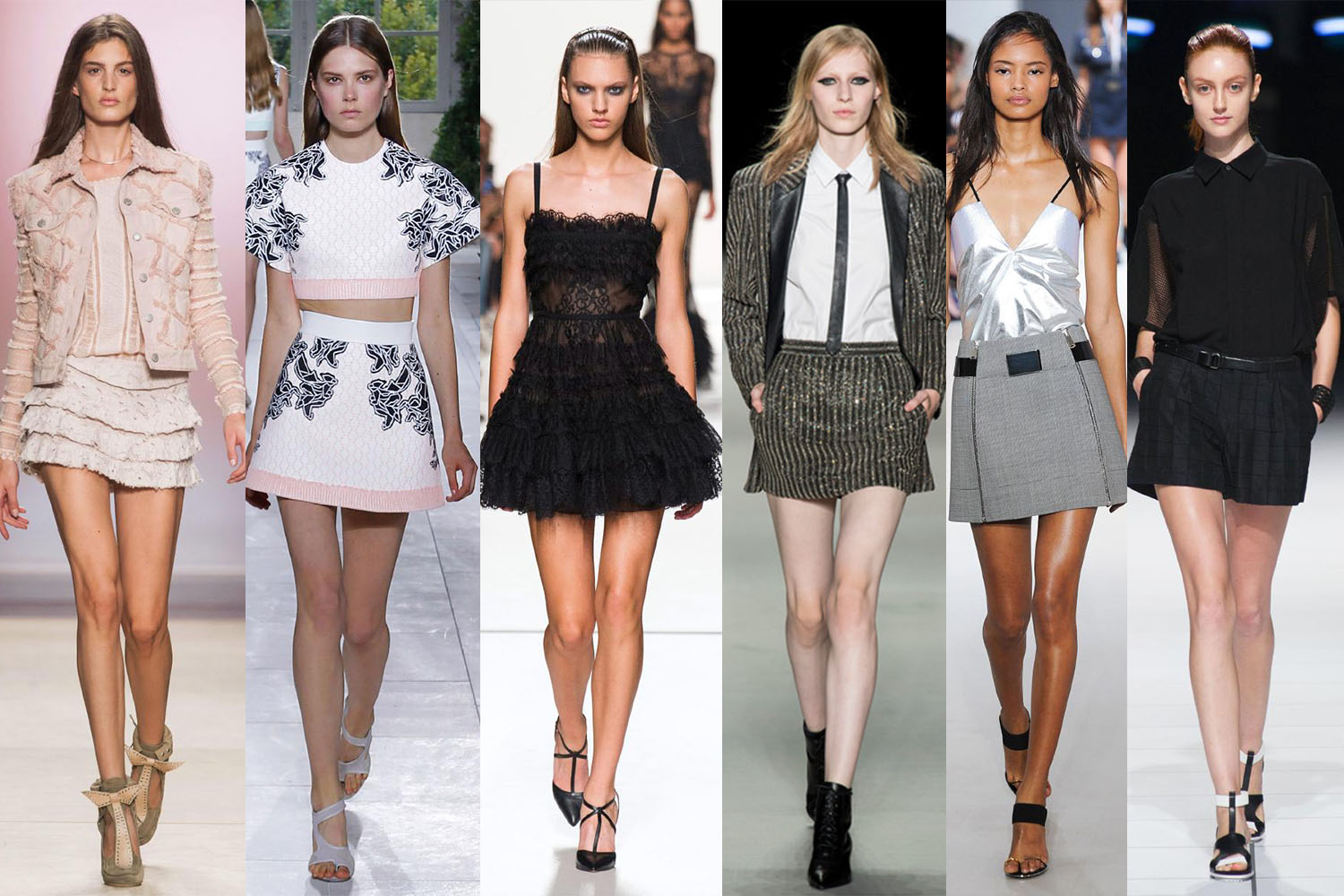 How to Wear Mini Skirts
 Denim Mini Skirt Outfits
Fitted Denim Skirts with Tops and Shirts– White t-shirts or fancy cotton tops and denim skirts are a comfortable ensemble for summer. While mid-calf gladiators are a perfect match to this combination, slipping into sneakers or Chelsea boots would be more stylish. For winter, wear tights and jackets or crop sweatshirts of any shades along with buttoned navy blue, black, and white denim mini skirts and thigh-high boots.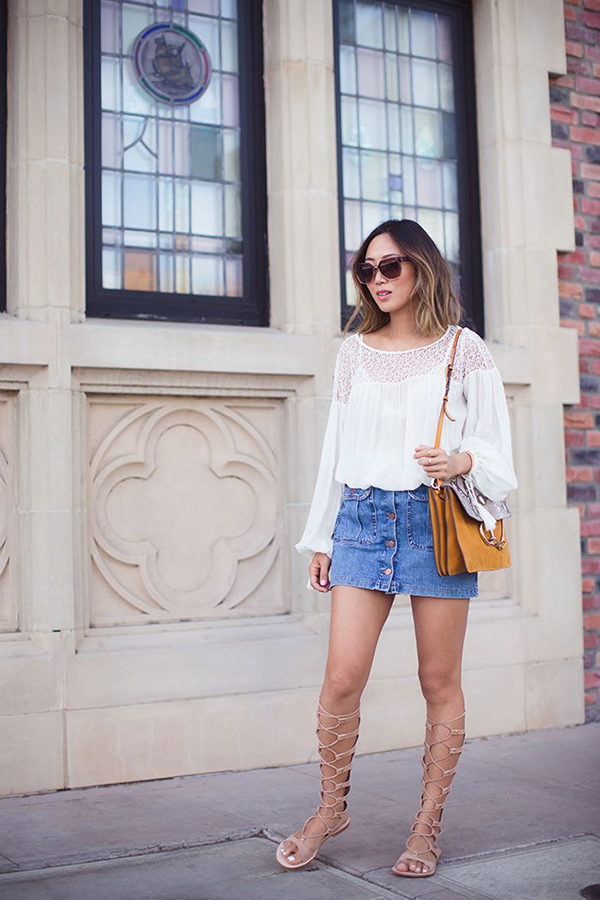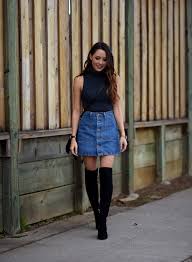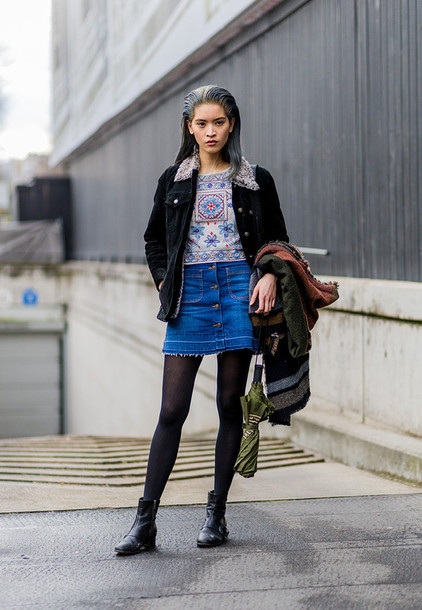 Leather Mini Skirt Outfits
Leather Mini Skirts with Fitted Tops– These edgy skirts hardly need anything more gorgeous than themselves for a fashionable appearance. From tank tops to shirts, off shoulder tops to turtleneck tops, all lend an effortless affair when worn over leather skirts of any shades. Since black is the edgiest color, you may go for monochromatic outfits by wearing all black. Don't forget to wear your heels for the best look. The effect will be the same, even you wear faux leather skirts.
A full sleeved black top and a black bodycon micro mini accessorized with a chunky belt and black pumps make an ideal night out attire.
For taupe, beige, khaki or nude minis, pastel-colored tops or shirts and strappy platform stilettos are good.
Neon colored mini skirts are best paired with black or white tops, either with a halter neckline or a sleeveless top.
A -line brown suede leather skirts with fringes are a good counterpart to your black turtleneck top for going out in the evening.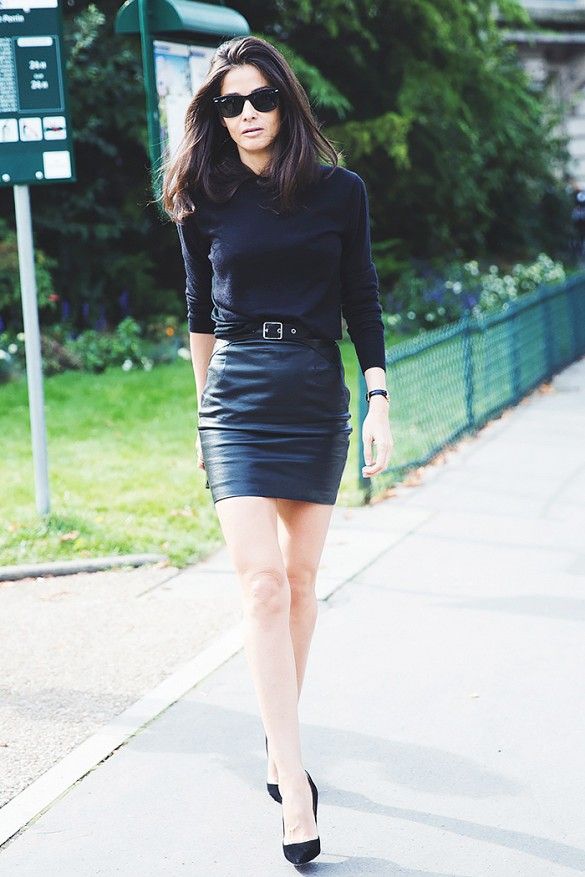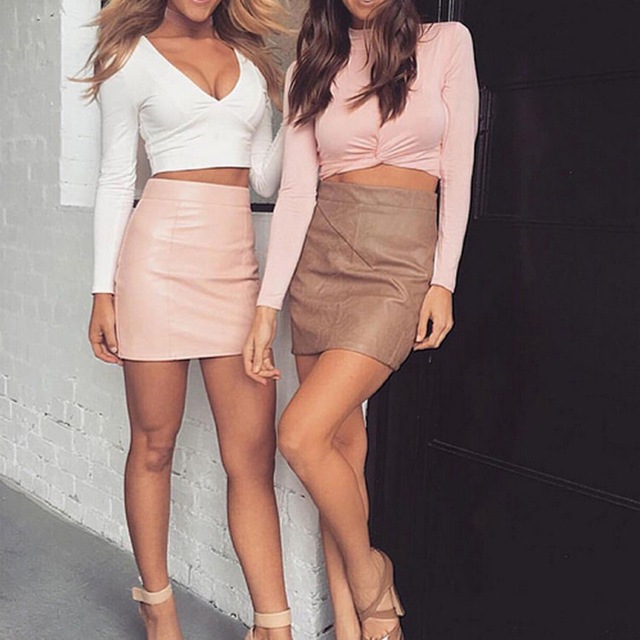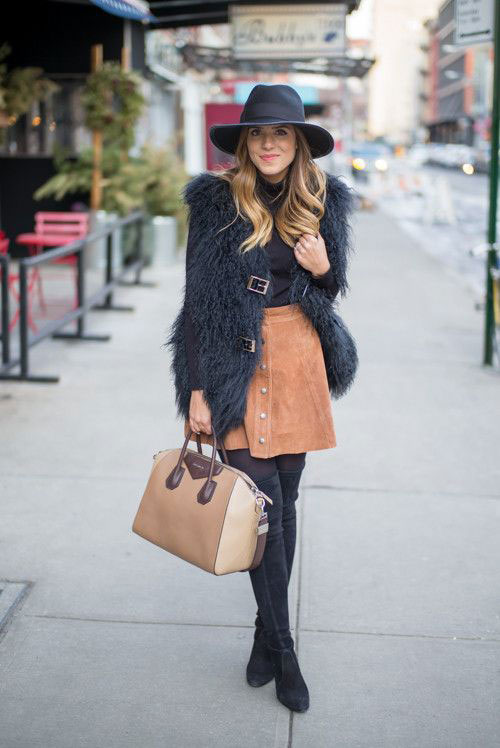 Sequin Mini Skirt Outfits
Sequin Mini Skirts with Tops and Sweaters– Slipping into a sequin skirt and a contrasting top is the easiest way when you don't have hours for finding the right outfit for a wedding party. Stilettos or wedges both are reliable choices.
Black sequins look good with sheer black shirts or light colored tops. For an office party it is the best look possible.
For clubbing or partying, replace your maxi gown with golden or silver (grey) blingy mini skirts and off-shoulder tops.
During casual outings in winter, wear a silvery mini skirt with sequin works and a sweater in the same shade. The much-needed contrast will come from the shininess of the skirt and the subdued texture of the sweater. Black stockings or tights are nice add-ons for fighting chilly winds. Also, you may go for a color contrasting ensemble and add a jacket or a blazer.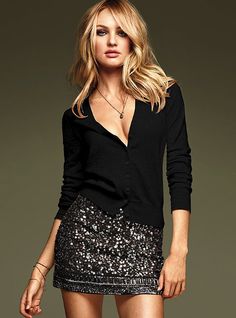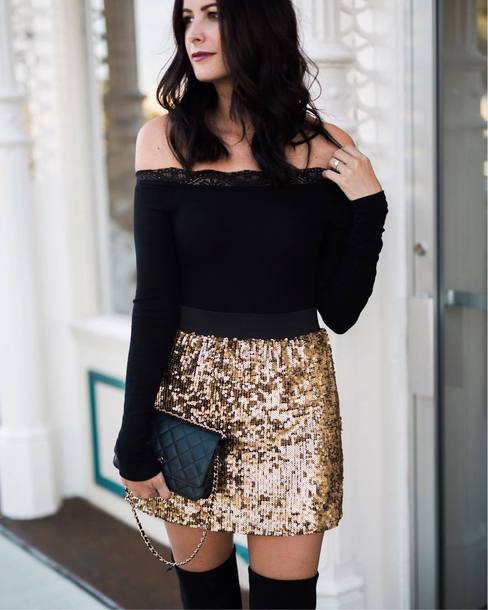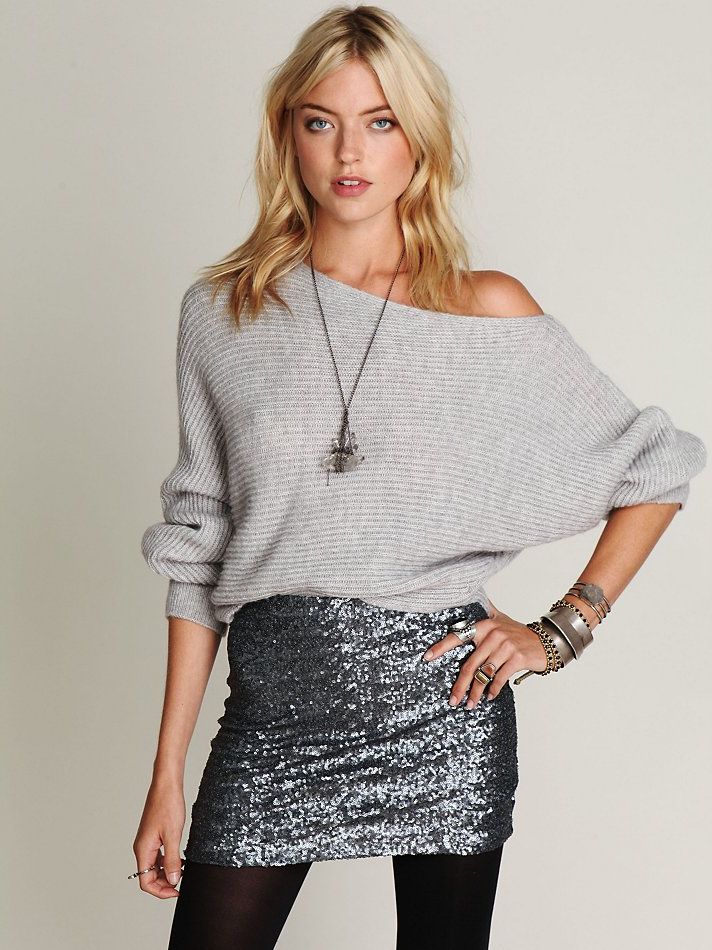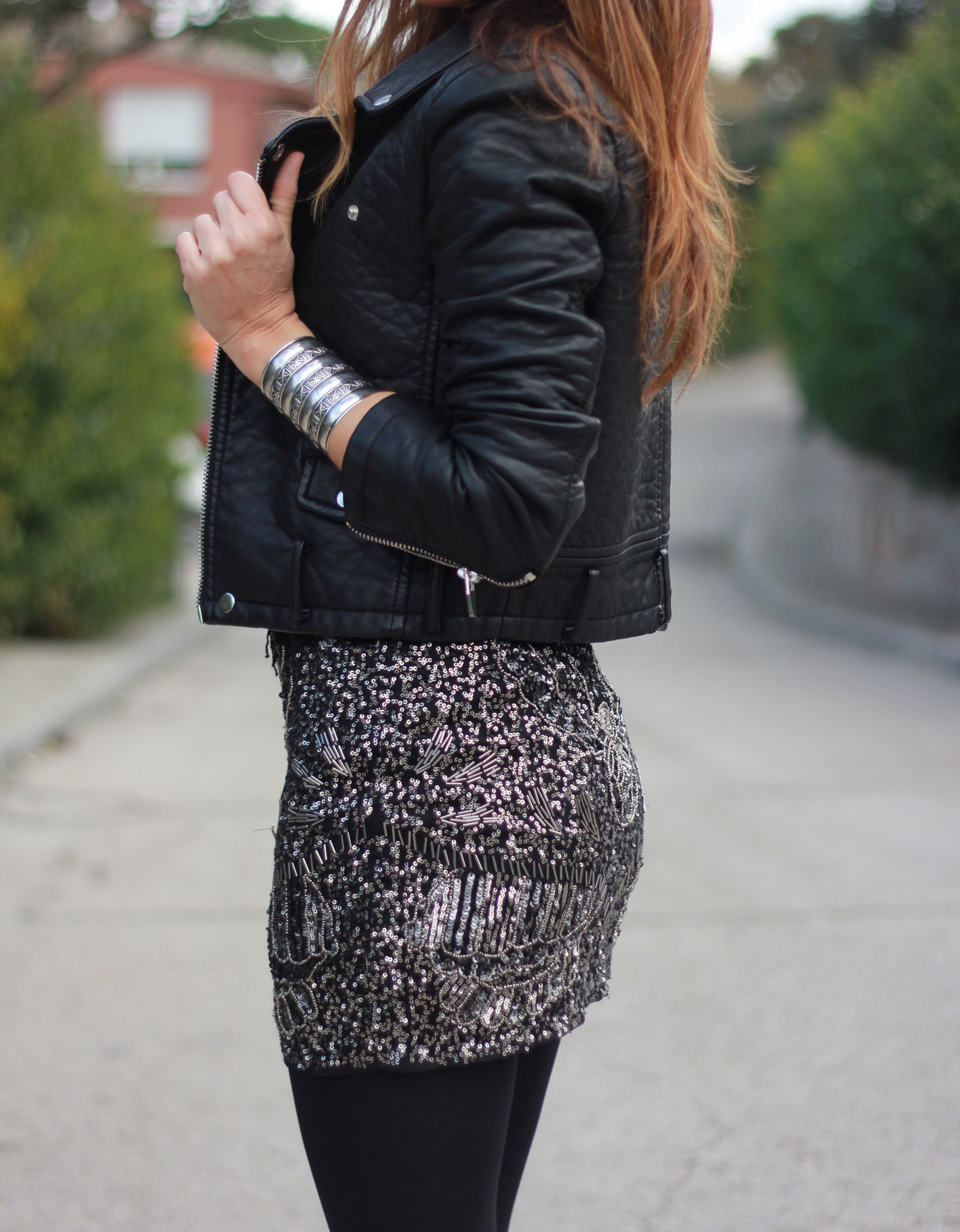 Velvet Mini Skirts Outfits
Velvet Skirts with Sweaters and Crop Tops– Velvet skirts are themselves a statement clothing option and are styled much like sequin skirts. They are mostly available in dark shades like green, purple, black and all, so either go for similar shades for tops or choose a highly contrasted look for a party.
Light brown flared velvet mini and oversized sweaters are a nice combination for teenage girls. Sneakers or pumps both are suitable.
For a monochromatic attire, you can choose a burgundy skirt and a crop top in the same shade. With a hat, a pair of ankle boots, and stockings the skirt will give you a superb look.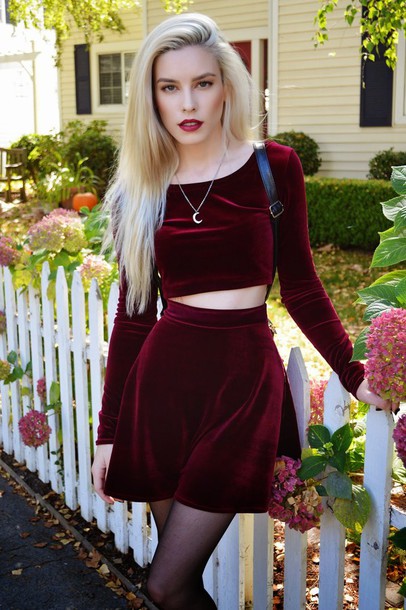 A Few More Styling Ideas
Printed and tube skirts having polka dots, stripes, Aztec, leopard and houndstooth prints should be matched with simple and monochromatic blouses and tops. You might be experimental regarding their neckline and sleeves but not about the prints.
High-waisted mini skirts and crop tops are the best match, but teaming up the former with oversized tops is never an option.
For knitted, tweed, crochet, lace or skirts having ruffles, tops with the same detailing are the best match, if not, then go for casual t-shirts and boots.
Coral pleated mini skirts, woolen or tartan skirts and tucked in white shirts create a vintage and country fashion of 80's and 90's. Experiment with the length of your boots.
Mini skirts and heels go hand in hand, complementing each other, so even if you have to settle for flats sometime, make sure to grab your attention upwards by some flouncy or fancy tops and nice accessories.
Subscribe Now!
Get The Newsletter: