How to Wear Leather Skirt Outfits
Leather skirts are statement fashion accessories, not solely restricted to the winter season anymore. With all possible color variations, these skirts with apposite tops require special mention in your fashion book. Besides being edgy, these skirts help you pull off a perfect formal and casual appearance.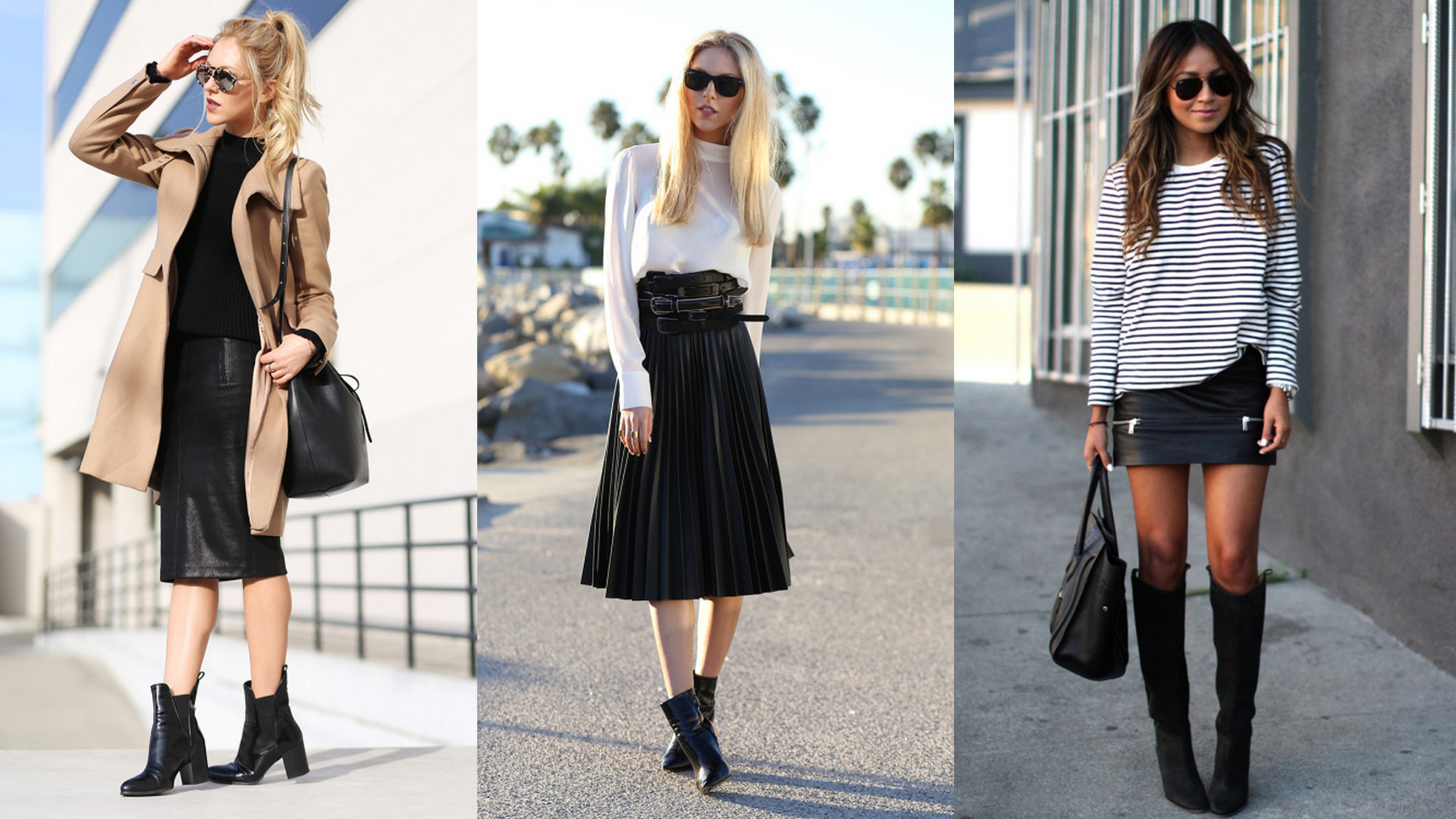 What to Wear with a Leather Skirt
Tops and shoes should be matched with the skirt, both in terms of their color and style.
Black Leather Skirt Outfits
Black is the most common shade of a leather skirt, including long and short skirts. To have a modish appearance, there is no comparison between this skirt and other dresses. Here are a few ideas how to successfully fashion black leather skirts-
Mini Skirts- Short skirts reflect a playful mood when paired with crop tops, t-shirts, or sleeveless blouses along with gladiator sandals or pumps. If you are a skinny woman, you may go for high waisted skirts with details like zippers and pockets and other embellishments to add some volume to you. Wearing stockings underneath is a popular way to appear more sophisticated, just like the royals.
Midi Skirts- Knee-length pencil skirts are often worn with a white button down shirts. If it is a skater or a quilted pleated skirt then tucked in oversized sweaters will be its perfect winter companion. For summer, stick to your comfort t-shirts to wear with these airy skirts.
Maxi skirts- These are winter attire as the material warms up your body quickly. If you have a side slit body-hugging pencil skirt then wearing that with a turtleneck top during winter will lend you an effortlessly glamorous look. Don't forget to slip into your high boots.
Red Leather Skirt Outfits
Mini Skirts- You may pick white or black halter neck tops with plunging necklines to go with. Don't go overboard with heavily printed or embellished tops as that will steal the attention from the skirt. A combination of black sheer top, a red mini skirt, red stilettos is ideal for a night out party with friends. Tights and jackets may always grace the outfit, but only when it's really chilly.
Midi skirts- White graphic t-shirts having a "v" or scoop neckline will do justice to the breathtaking red skirt. Lacy tops in contrasting shades give a girly and delicate appearance. Select your footwear either from strappy shoes or pumps. Go for contrast look when you are to deal with such a strong shade as this is the only way to stand apart.
Maxi skirts- White or nude polka dotted shirts or any sheer tops would look nice. Don't wear tops in similar shades as that would be a bit too much for the eyes. Instead of making your look boring, keep your tops and shoes in lighter or darker shades than red but not red at all. Taupe or nude platform pumps are the ultimate choices.
However, if red is not your shade and you are looking for something softer yet bright then go for burgundy, wine red or oxblood skirts. The fashion trick will remain the same as the red one.