How to Wear a Tulle Skirt: Ideas for Tops, Shoes and Accessories
There are few outfits that can match up with the grace, versatility, and regality of a tulle skirt. However, as gorgeous as it is, balancing it with the right tops and accessories is the key to emerging as a trendsetter.
Two Things to Keep in Mind
Length of your skirt: It is essential to first decide on the length of the tulle skirt you are going for as it highly impacts your final styling. Randomly matching tops with skirts of any length may end up in a fashion faux pas.
Your body type: If you have a bulky lower body or a pear-shaped body, chose and style your skirt carefully as it often makes the lower body appear more voluminous.
What Tops to Wear with Tulle Skirts
1. Tank Tops
Pairing a tank top with a tulle skirt of any length makes for a perfect summer wear. While tank tops suit women of any height, make sure that your arms are toned and don't have any prominent tan lines before you decide to flaunt that tank tee.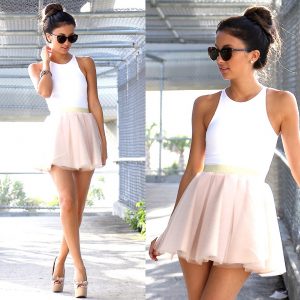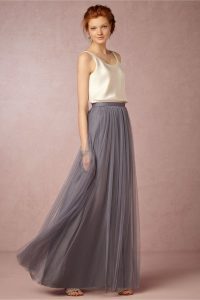 Accessorize An oversized pair of shades, a straw hat and a large handbag with short handles.
2. Crop Tops
Crop tops go exceptionally well with tulle skirts, especially high waist ones. It is ideal if you wish to flaunt your midriff.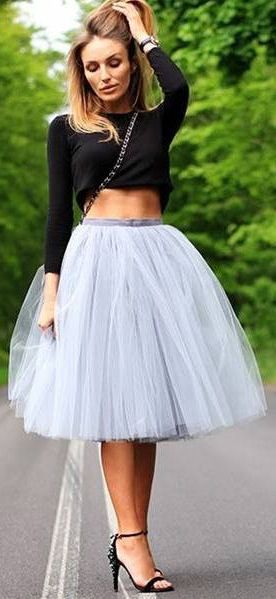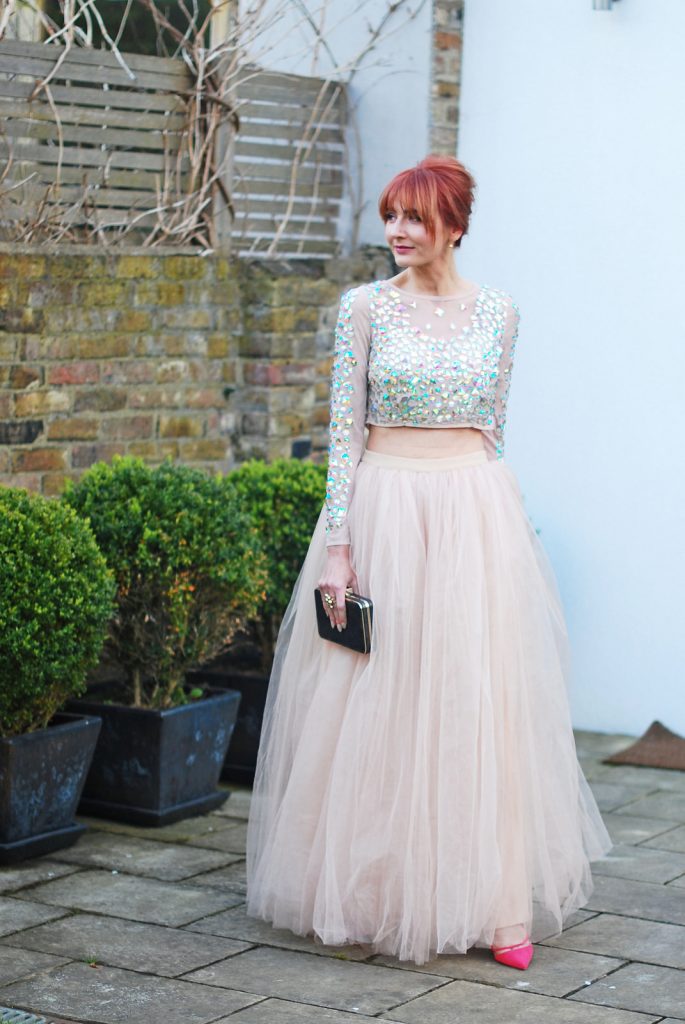 Accessorize Small metal sling bag.
3. Lace Tops
Wear a subtle colored tulle skirt such as beige and pair it with a white or powder blue lace top for a graceful look.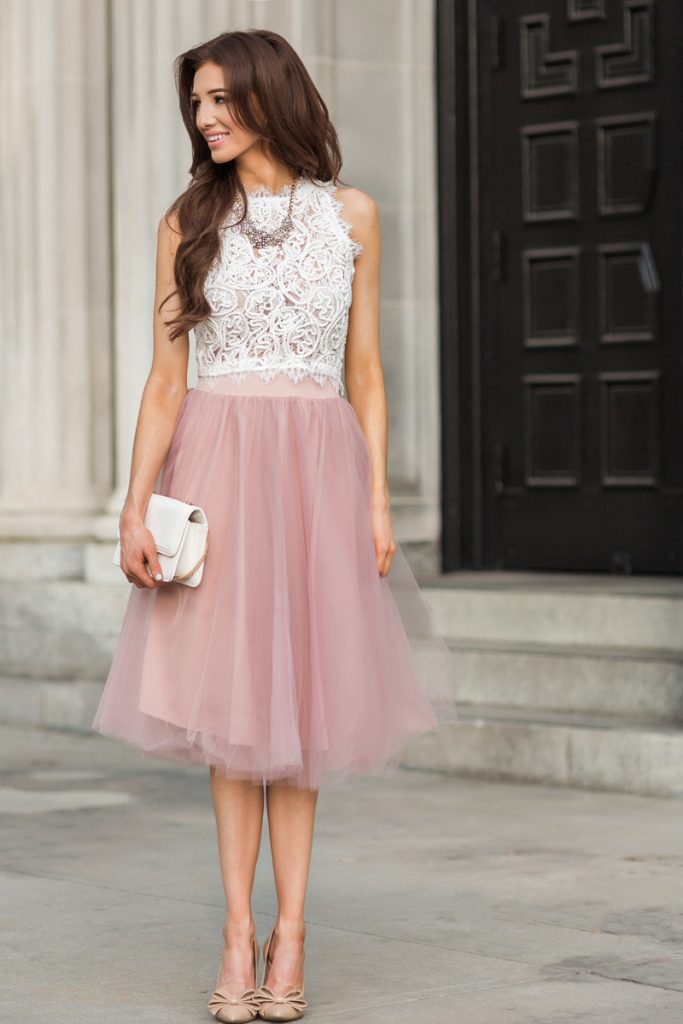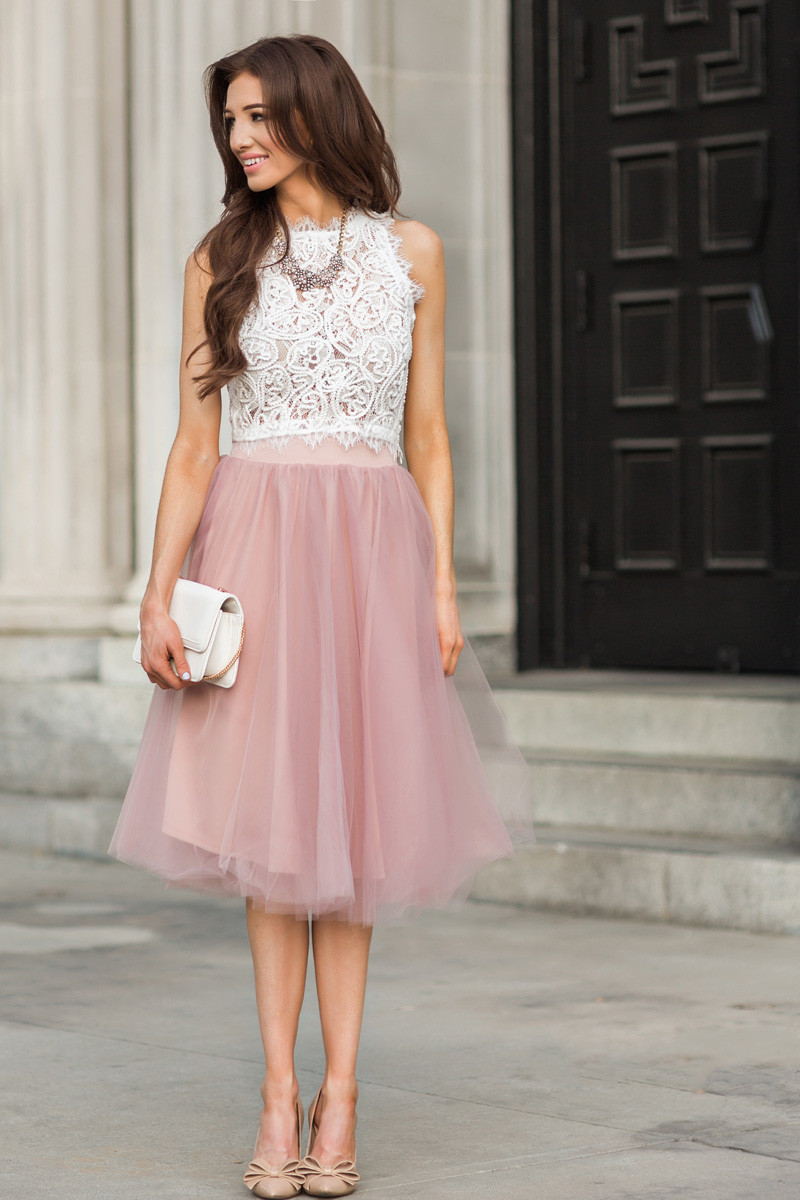 Accessorize Classy long pearl necklace or some junk jewelry. Carry a lacey leather or fabric clutch that matches the attire.
4. Jackets
Wear a short jacket with a long tulle skirt or loose long jacket with a short one. The combo of black tank top worn with a high waist white tulle mini skirt, a loose flowy black jacket, and knee-high black boots will turn heads wherever you go.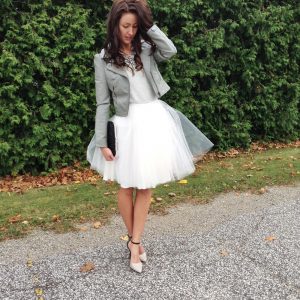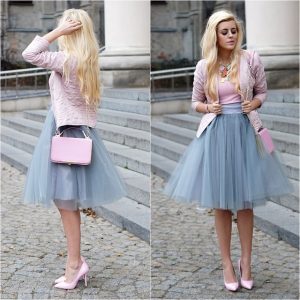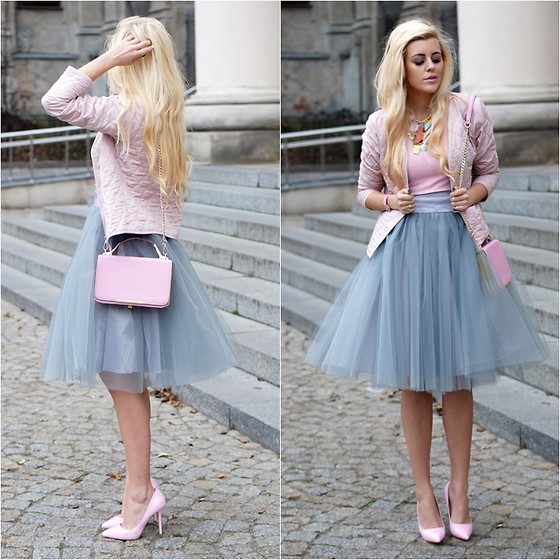 Accessorize A pair of black shades and a small black handbag
5. Sleeved Simple Blouses
Tulle skirts can be combined with full-sleeve, three-quarter or short-sleeve blouses. If you have a broad upper body and petite lower body, go for a body-hugging blouse with a fluffy skirt. For an unconventional look, team it up with a graphic tee.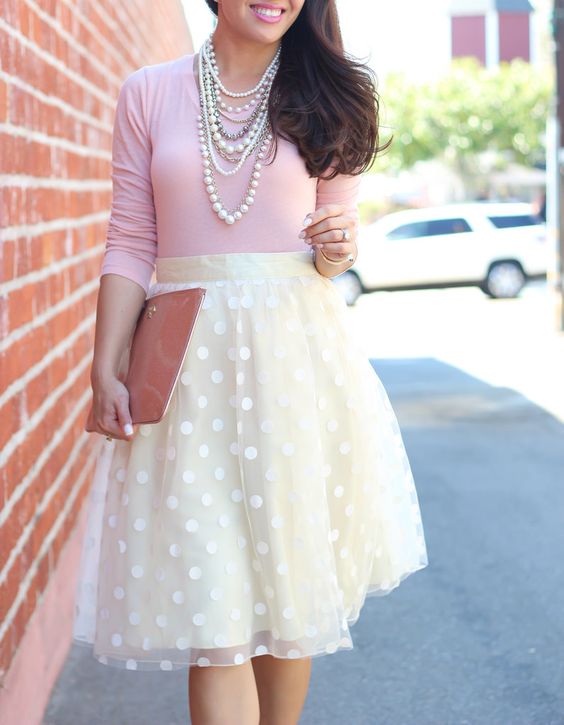 Accessorize Any kind of accessory and bag can go well with the versatile blouses, ranging from oversized handbags to compact clutches
6. Corset Tops
The sensual combo of a tulle skirt and a corset top is a brilliant choice for plus size women or for those who like to show off their neckline. This ensemble is ideal for weddings or balls.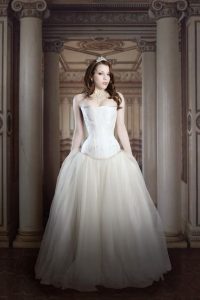 Accessorize Depending on the style and color, the dress will be further enhanced when worn with diamonds or even gothic jewelry. Carry a flashy clutch if you want.
7. Casual Shirts
A tulle skirt plus a shirt equals a very dapper you! Wear a denim shirt with a high waist tulle skirt of any length and tie the two front ends of the shirt in a knot for a quirky look. Try out a black tulle skirt with a full-sleeved denim shirt for an astounding appearance.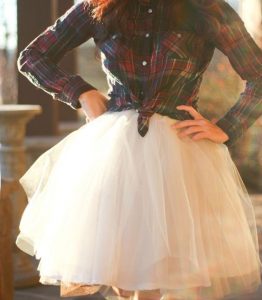 Accessorize Beaded bracelets and a tan handbag form a nice contrast to the rest of the getup.
Shoes to Wear With a Tulle Skirt
Boots: Mid-length or knee-high boots go exceptionally well with mini- and knee-length skirts. You can also wear stockings to match the boots.
High-heeled sandals: It's a good choice for slightly baggy tulle skirts as it adds to your height. Maxi skirts naturally call for high heels, making for a great evening or party wear.
Ballet flats: These are best suited for knee-length skirts. When wearing a tulle maxi skirt, it's better to avoid ballet flats or any flats for that matter.
Gladiator sandals: Tie-up gladiator shoes look great with short tulle skirts, letting you parade your toned legs. Low gladiator shoes can be paired with both maxi and midi skirts.
Fun to experiment with, the different lengths, and frothiness of a tulle skirt, along with its unconventionality set you apart from any crowd.