How to Wear Ankle Boots
Ankle boots, being a staple footwear option, can either make or break your look depending on your styling. From a slim teenager to a plus size woman, ankle booties complement all with their flattering features. Here are some style tips intended to help you with teaming up these boots with right dresses and accessories.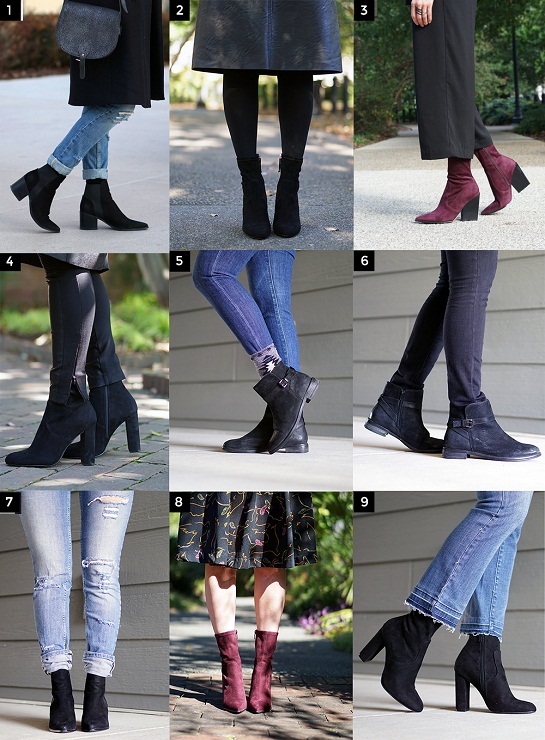 What to Wear with Ankle Boots
Starting from biker boots to low cut duck boots, all shoes are wearable with all dresses, but it is important to maintain a balance in your look. While glitter boots are for wedding parties, gray, brown or nude boots are suitable for corporate get-ups.
How to Wear Ankle Boots with Jeans Throughout the Year
A pair of skinny jeans or boyfriend jeans (longer jeans instead of ankle-length jeans) with 2-3 inches rolls and high block ankle boots with rounded toe makes your ankle appear slimmer by showcasing it a little.
For longer straight leg jeans you can tuck them in brown high ankle slouchy or fold over boots with block heels for a perfect summer look. A casual floral printed t-shirt or oversized top will suit.
Flat cognac ankle boots or Chelsea boots with zipper cuffs coupled with grazer jeans look elegant as well.
For bootcut jeans wear high shaft ankle boots with pointy kitten heels while going to work. Women with skinny legs and ankles must follow the tip.
Strict No-No- Covering your boots with the seam of your jeans, as it imparts an unflattering appearance leading to a fashion blunder.
Pro Tip: For black jeans brown suede or tan booties look fine while for blue and other shades black, gray and beige ankle booties are the best.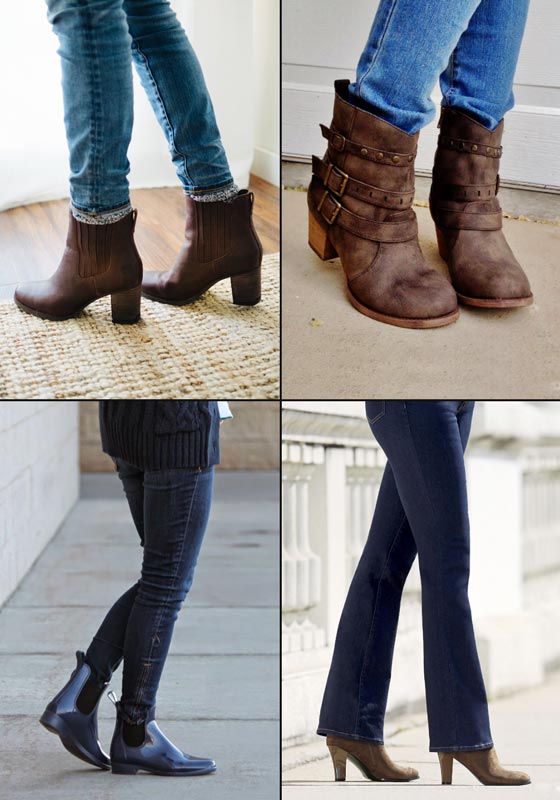 How to Wear Ankle Boots with Leggings and Pants for Winter
Leggings tucked in leather wedge boots with a higher shaft is a deadly combo to rely on. A leather jacket or a poncho and a comfy top underneath make it a perfect winter attire.
Oversized sweaters, skin-fitted leggings, a pair of leg warmers, and white taupe ankle boots with high block heels are what your winter fashion is all about. If you badly want to conceal your chubby ankle then this is a perfect styling option.
A pair of white cropped pants or capris along with low cut brown wedge ankle booties is preferable for women who have to work outside their office for a long time.
Dark shorts and stockings underneath can also be worn if you wish to cover your big thighs with black velvet ankle boots.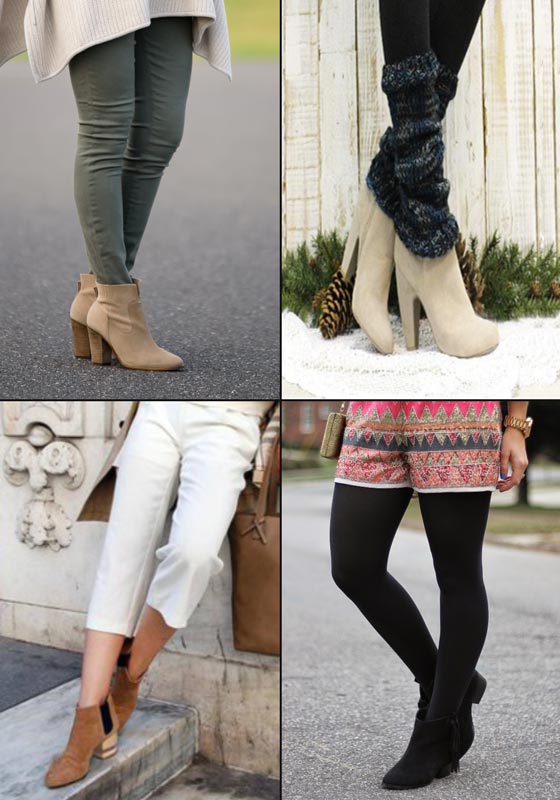 How to Wear Ankle Boots with Dresses for Spring and Fall
A thigh slit maxi dress and ankle booties are good for slim and petite girls. Both wedge and high heels will go. You may also choose peep-toe boots.
A full sleeved floral fitted dress is well complemented with a pair of black heeled ankle boots with a rounded toe.
What could be better for plus size women than a mid-length lacy dress with dark black suede ankle booties to style them up while concealing big calves?
If you have shorter legs, you must expose them for a longer appearance, so wear a short dress and team up with wedge ankle booties along with a pair of socks.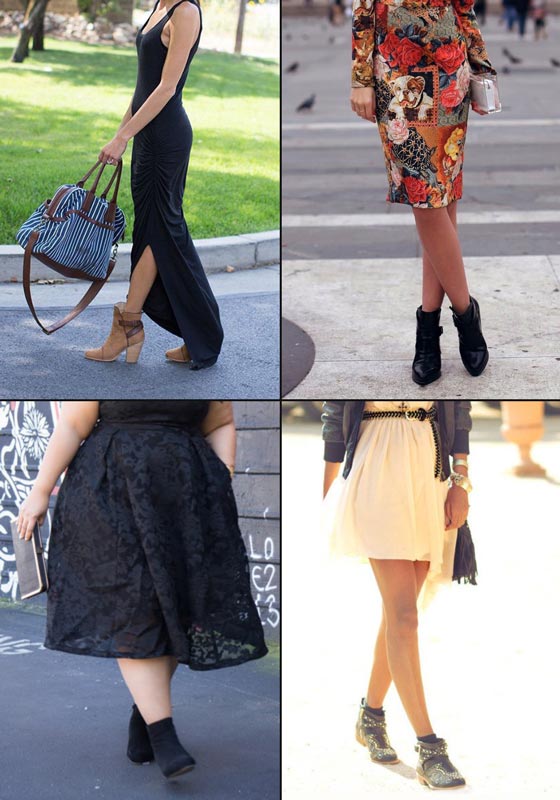 How to Wear Ankle Boots with Skirts for Summer
Since summer calls for shorter dresses, pastel-colored skirts and brown lace-up ankle boots go hands in hand. For mini skirt choose ankle boots with block heels and fringes.
For a midi pencil skirt, flat or fold over ankle boots of any shades look cool and funky for a night out with friends. This style is exclusively for women with a bohemian look.
For long skirts, the styling tips remain same as the maxi dress. Still, don't forget to experiment with various shades of shoes like blue, red, yellow along with their styles like cut out boots, boots with fringes and so on.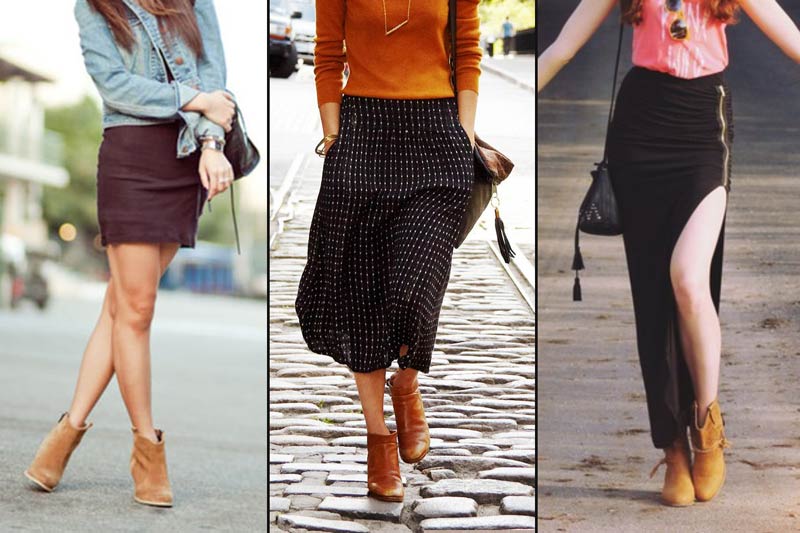 So, what do you think? Be it a formal or casual gathering, is pulling off any look difficult for you with these style tips? Not anymore! So feel free to complement your figure just the way you wish following these. But remember one thing, don't put your comfort at risk, and always choose the heels as per your capacity of balancing them. Each one is equally trendy.