How to Choose the Right Foundation
Foundations give an even skin tone when aptly chosen and applied. It complements our skin mostly in two ways, one by color enhancement, and secondly by covering the flaws like blemishes and pimples. Most women only check the foundation color without ensuring if that can cover their facial flaws or not. So, as a makeup base, a foundation should be perfect at any cost.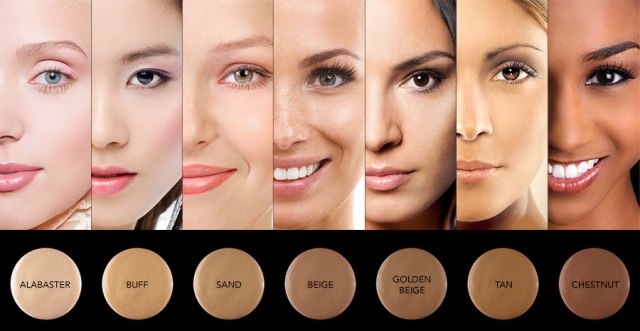 How to Choose Foundation Colors According to Your Complexion
Checking the Undertone- This is different than your complexion and to understand which one you have, take a look at your veins at the wrist.
Veins having bluish or purplish shades indicate cool undertone.
Veins that have yellowish, golden or pink shades conform to warm undertone. Sometimes green and olive veins are also considered as warm.
If your veins have a mixture of warm and cool undertones instead of any particular shade, then you have a neutral undertone.
All shades of the foundation have these three separate undertones as well. Choose the one that matches with your undertone.
Matching Your Original Complexion- Since women seem to have tans here and there, it is important to choose foundations based on your original complexion. So, if you are at a store, try the foundation on your face especially on your jawline or somewhere it is not tanned. Arms are the most tanned area and also its texture is different than your face so it is best to check it out on the face.
If you have recently done a spray tan even on your face, you might be going with your facial complexion to match it.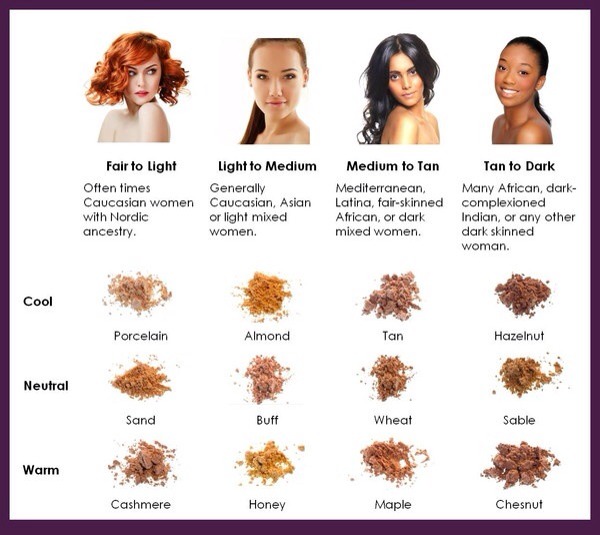 Experimenting with Multiple Shades- Take you final call only after trying out two or three similar foundation shades. Check which one disappears quickly into your skin without leaving a trace and that is the one you need.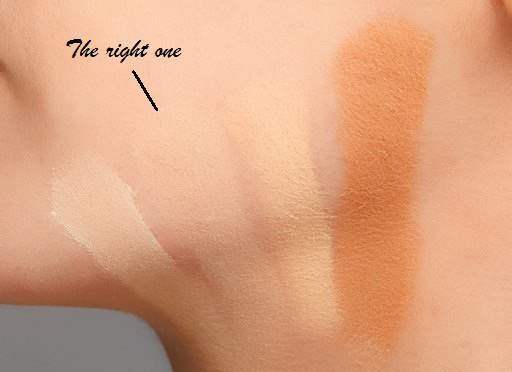 How to Choose Foundations According to Your Skin Type
Normal Skin- Use any foundation (half coverage, medium coverage, and full coverage) as per you wish as your skin is one of a kind. Both luminous and matte foundations are for you.
Dry Skin- A hydrating foundation with a light coverage and luminous finish suits your skin, giving it a glowy look. To make the foundation stay for a long time,  gently pat and press the makeup base on your skin.
Oily Skin- You could use foundations with a medium to full coverage with a matte finishing that will make your skin look less oily.  Using it with a brush or sponge is a viable option as you don't want the oil of your finger on your face.
 Aging Skin- Light coverage foundations with luminous finish do not accentuate wrinkles and fine lines so they are the best for a wrinkled face.
Acne-Skin- Medium to full coverage foundations applied through a brush or sponge in a speckled motion conceals the acne prone skin to a mentionable extent.
These are the basic things that you need to keep in your minds. It is seen that Asians have yellow undertones so they choose accordingly. For dark skin tone, liquid and semi-matte are the best as the former with heavier texture offers a  good coverage to those having hyperpigmentation and the latter balances the naturally glowing skin.
Some also prefer to consider their hair color as well to look fresh. Lighter hair color goes well with dark foundations and vice versa while redheads tend to use foundations with a yellow undertone to balance their redness.
Subscribe Now!
Get The Newsletter: