Blue Butterfly Nails
by staff
13th August 2021
One of the significant trends in the 90s was butterflies. From clothing to accessories, you could see them everywhere. Remember those colorful butterfly clips found on almost every girl's head? Well, the butterfly trend has made a major comeback now. You might have noticed Kylie Jenner flaunting pink butterflies on her nude nails on social media.
When it comes to choosing the right color for your nails, nothing more can be appealing and trendy than blue. Whether you're planning to go on a beach party or a baby shower celebration, this color of the sky and water would look great on you every time. Besides, as it epitomizes peace and confidence, this cool color is sure to boost your personality. The butterflies on top of these blue hues would simply look the best.
Butterfly Nails with Different Colors and Patterns of Blue
Clear Blue Butterfly Nails
Applying blue butterflies on clear nails will give a subtle look to those who love to be in trend yet don't wish to flaunt much. Long nails of any shape will be perfect for this design.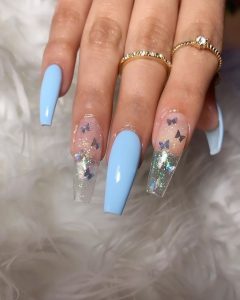 Source: fancynailart.com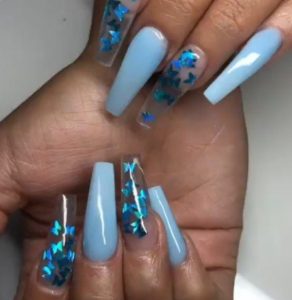 Source: nailsinsider.com
Light Blue Nails with Butterflies
Light blue nails are now the most trending ones. Besides, it would compliment any skin tone. Summertime would be the best to wear this shade, especially if going to the beach. Compliment it with tiny butterflies to give a more sophisticated look.
Blue Butterfly Acrylic Nails
Besides adding a strengthening layer and extra length to your nails, acrylics are bold and beautiful. Choose a blue shade of your choice and team it up by adding little butterfly details.
Dark Blue Butterfly Nails
Dark blue on any shaped nails are a display of sheer elegance and beauty. It would also be the perfect choice for a night party if teamed up with a sequin dress. Add the butterfly design and decorate it with rhinestones to make it look more appealing.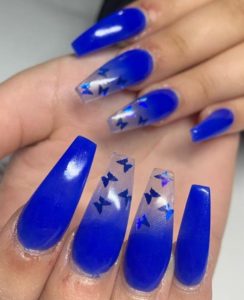 Source: nailsinsider.com
Blue Butterfly Designs on Different Nail Shapes
Blue Butterfly Coffin Nails
What's more eye-catching than blue polish on coffin nails? To make it more unique, apply some glitter before adding the butterflies. Even the matte blue polish is a good choice.
No matter what the occasion is, blue nail color will never leave you disappointed. Whether you have ombre nails or stiletto or the coffin ones, blue polish is sure to enhance them and make them look elegant. Pairing them with butterfly stickers on top would give them a more attractive look.
Subscribe Now!
Get The Newsletter: