How to Do Ombré (Gradient) Nails at Home
Ombré or gradient nails give you an unmistakable impression of French manicure sans the parlor bill. This is because you can get it done at home with the help of your makeup kits. Make sure to rub off your existing nail colors ( if any) with a remover and file the nails beforehand.
Things that You will Need
Two or three nail colors (similar shades so that the transitional effect is achieved well)
Makeup sponge(circular or rectangular)
Clear base coats
Remover
How to Make and Paint French Ombré Nails: Step-by-Step DIY Instructions
Apply the base coat
Put a thin coat of the nail color that you want to be the base color
Now take the sponge and apply the remaining two or three shades of nail polishes horizontally
Dab that sponge gently on your nail (from right to left)
Use your nail polish remover to clean the skin around your nails
After drying, use the clear top coat to seal the color
The same process is applied for creating gel ombré nails, using gel nail colors. However, for faster drying, use a UV dryer.
To make ombré nails with glitters you can sprinkle some glitters on the sponge and pat it on the tips of your already polished nail or you can simply apply a glitter nail polish on your nail tips. For a reverse ombré nails, apply the glitters on the cuticles.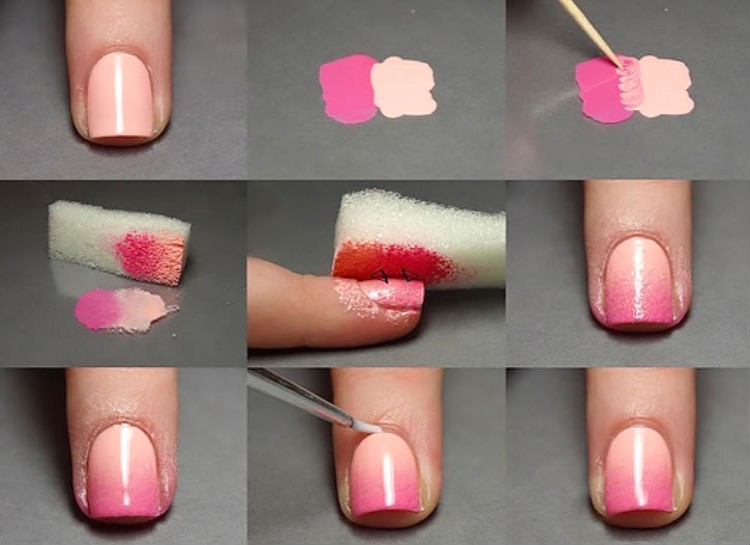 How to do Ombré Nails without Sponge
In case you don't have the sponge at home, you can rely on any one of these four things, eyeshadow applicator, cotton ball, tissue paper or makeup brush. The hack will remain same as the above, just replacing the sponge with these.
To ensure your manicure last for a long time, file your nail tips to a point until you have a rough surface. The uneven base will hold the nail colors and the top coat will further fortify it.
Subscribe Now!
Get The Newsletter: